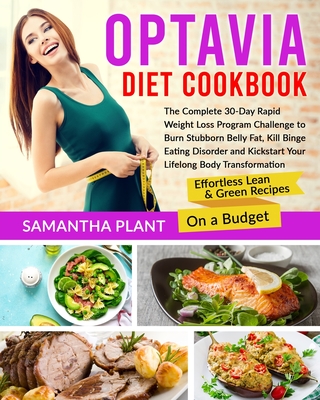 Independently Published
Optavia Diet Cookbook: The Complete 30-Day Rapid Weight Loss Program Challenge to Burn Stubborn Belly Fat, Kill Binge Eating Disorder and Kickstart Your Lifelong Body Transformation. Lean & Green Recipes On a Budget
0

Rate this book

Key Metrics
Independently Published

Paperback

9798588231688

10 X 8 X 0.34 inches

0.72 pounds

Health & Fitness > Diet & Nutrition - Diets

English
$0
Available Copies:
0 Copies

Secure Transaction
Book Description
Looking for a
rapid weight loss program
that finally works? Tired of waking up in the middle of the night with
hunger pangs
you can't control? All you have to do is to follow my
autopilot system
without going crazy in what, when and how to eat every single day!
★★★This Cookbook tells you how to kill your stubborn belly fat week after week by giving you over 150 effortless recipes on a budget based on the Optavia Diet.★★★
You tried a lot of fad diets and weight loss programs, but none of these seem to pan out. Surely you are also sick and tired to be spammed with ridiculous internet ADS that sponsor magical fat burning products that promise to lose 5 pounds in 3 days...
Just for a moment you thought that no diet was right for you and that maybe at the end of the day the problem with everything is you...

... but then you heard talking about the pastry chef Buddy Valastro that lost like 44 pounds in no time with a strange diet called Optavia Diet (how's that possibile?).

For all of these reasons, you started your research on Google about this diet with a new hope (maybe this is the right diet for me, if he made it, I can do it too!).

Your dream of shedding those extra pounds seems finally achievable.

BUT HOW...?

Well, if you want to achieve results, in any area of your life, you have to rely on people who have already achieved those results! You don't have to reverse the wheel and go your own way!

All you have to do is...

1. Get the food that I suggest in my special list
2. Follow my complete 30-Day rapid weight loss program
3. Let your body do the rest!

How easy is that? YOU DON'T EVEN HAVE TO THINK ABOUT IT.

Inside this book you'll find:

The only one complete rapid weight loss program that is helping thousands of people to burn fat like never before. I will guide you day-by-day and tell you how many times you have to eat, what to eat and how to cook all the meals you need.
Which are the benefits that you can achieve with the Optavia Diet and how it differs from other diets.
Why you don't need to miss out meals. You'll discover also why eating multiple times throughout the day will actually help you lose weight more easily.
Which kind of foods you have absolutely to avoid if you don't want to screw up all the work you've done (you will find a detailed nutritional guide).
150+ effortless recipes ideas to shake up your creativity in the kitchen. You won't always eat the usual boring things.
You are one step away from transforming your body FOREVER!

Order NOW your own copy of this Cookbook!
Optavia Diet Cookbook: The Complete 30-Day Rapid Weight Loss Program Challenge to Burn Stubborn Belly Fat, Kill Binge Eating Disorder and Kickstart Your Lifelong Body Transformation. Lean & Green Recipes On a Budget