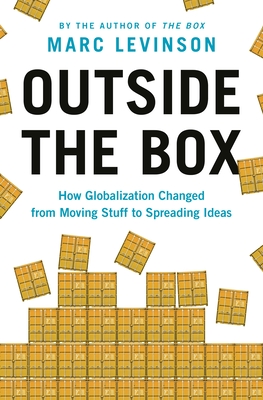 Outside the Box:How Globalization Changed from Moving Stuff to Spreading Ideas
Interview with Marc Levinson
October 9, 2020
Sign Up to listen to full interview.
About Marc Levinson
Marc Levinson began as a journalist, reporting on business for Time magazine and the Bureau of National Affairs (BNA) and serving as editorial director of the daily Journal of Commerce in New York. After several years writing about business and economics for Newsweek, he became finance and economics editor of The Economist in London. In 1999 Marc joined the predecessor to JP Morgan Chase, where he created a unique industry economics function that married economic research with stock and bond analysis and developed a line of environmental research products for institutional investor clients. He has had stints advising Congress on transportation and industry issues and serving as senior fellow for international business at the Council on Foreign Relations, and has consulted for a number of businesses and public agencies.
Marc's career has been eclectic, but with a common thread: his professional life has centered on making complex economic issues understandable to the general public. Much of his work has been international in focus, dealing with international trade and globalization, international finance and financial regulation, and energy and environmental issues that cross international borders.
He has written six books that merge my interests in economics and business strategy with historical research. He has also written many articles for leading publications, such as Harvard Business Review and Foreign Affairs, and contributed historical pieces to Echoes, the former economic history blog at Bloomberg.com. He frequently reviews books for The Wall Street Journal and other publications.
Marc earned a bachelor's degree from Antioch College, a master's degrees from Georgia State University and the Woodrow Wilson School at Princeton University, and a doctorate from the City University of New York.
more
Interview Summary
As long as we need and want products and services that others make or create, globalization is here to stay.
Nations have explored the earth to reach other civilizations and at times gone to wars, whether it is for spices, silk or precious metals like gold and silver. Civilizations have been subjugated and colonies were created only to get the reliable supply of the product of choice of the time.
In recent centuries, manufactured goods have become objects of desire as the rich want to dress themselves in style while the less privileged demand cheaper goods to access more technology driven lifestyles.
Whether it is the latest designer dress, the most affordable or the most expensive phones, these coveted items all have their global journeys, often rocky, carefully drafted by entrepreneurs and governments.
Economist, historian and author Marc Levinson offers a broad and expansive history of globalization and its fast-paced evolution in the last two centuries. In an insightful account, Levinson explains how globalization has been transformed in every stage by entrepreneurs, governments and technology.
Contract freight, deregulating finance, international supply chains, headquarter economy became the milestones of international trade leading to globalization.
Levinson offers profound insights into how aspiring national powers have subsidized manufacturing, highlighting that market forces have never been behind the rise of manufacturing in any significant powerful nation. In addition, the spread of supply chains to value chains have rendered most conventional government statistics on international trade to say very little about the status of societies, community prosperity and relationships among nations.
Key Topics
What is the history of globalization?
How has globalization evolved during its four stages?
Why does scale matter and why do larger companies have advantages?
How does cheap international freight affect domestic manufacturers?
How do China subsidies create a global oversupply in manufactured goods?
How does ocean freight shipping by European and Asian governments affect local manufacturing?
How have supply chains morphed into value chains?
Why may the current wave of globalization in services transfer more work to Asia?
Other Books by Author