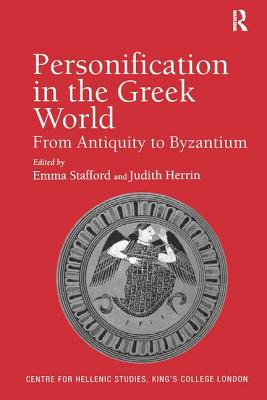 Routledge
Personification in the Greek World: From Antiquity to Byzantium
0

Rate this book

Key Metrics
Routledge

Hardcover

9780754650317

-

-

History > General

English
$0
Available Copies:
0 Copies

Secure Transaction
Book Description
Personification, the anthropomorphic representation of any non-human thing, is a ubiquitous feature of ancient Greek literature and art. Natural phenomena (earth, sky, rivers), places (cities, countries), divisions of time (seasons, months, a lifetime), states of the body (health, sleep, death), emotions (love, envy, fear), and political concepts (victory, democracy, war) all appear in human, usually female, form. Some have only fleeting incarnations, others become widely-recognised figures, and others again became so firmly established as deities in the imagination of the community that they received elements of cult associated with the Olympian gods. Though often seen as a feature of the Hellenistic period, personifications can be found in literature, art and cult from the Archaic period onwards; with the development of the art of allegory in the Hellenistic period, they came to acquire more 'intellectual' overtones; the use of allegory as an interpretative tool then enabled personifications to survive the advent of Christianity, to remain familiar figures in the art and literature of Late Antiquity and beyond. The twenty-one papers presented here cover personification in Greek literature, art and religion from its pre-Homeric origins to the Byzantine period. Classical Athens features prominently, but other areas of both mainland Greece and the Greek East are well represented. Issues which come under discussion include: problems of identification and definition; the question of gender; the status of personifications in relation to the gods; the significance of personification as a literary device; the uses and meanings of personification in different visual media; personification as a means of articulating place, time and worldly power. The papers reflect the enormous range of contexts in which personification occurs, indicating the ubiquity of the phenomenon in the ancient Greek world.
Personification in the Greek World: From Antiquity to Byzantium
Author Bio
Judith Herrin is professor emeritus in the Department of Classics at King's College London. Her books include Ravenna: Capital of Empire, Crucible of Europe; Byzantium: The Surprising Life of a Medieval Empire; Margins and Metropolis: Authority across the Byzantine Empire; and Unrivalled Influence: Women and Empire in Byzantium 
Herrin worked as an archaeologist with the British School at Athens and on the site of Kalenderhane Mosque in Istanbul as a Dumbarton Oaks fellow.[5] Between 1991 and 1995, she was Stanley J. Seeger Professor in Byzantine History, Princeton University.[6] She was appointed Professor of Late Antique and Byzantine Studies at King's College London (KCL) in 1995, and was Head of the Center for Hellenic Studies at KCL.[4] She retired from the post in 2008, becoming Professor Emeritus.[4] She was president of the International Congress of Byzantine Studies in 2011
Research interests
 
Byzantine archaeology and other fields including women in Byzantium and Byzantium in relation to Islam and the West.
Source: Princeton University Press and King's College, London 
more