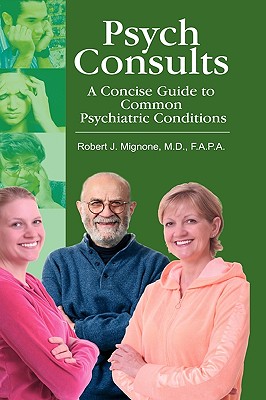 Outskirts Press
Psych Consults: A Concise Guide to Common Psychiatric Conditions
0

Rate this book

Key Metrics
Outskirts Press

Hardcover

9781432750893

9.21 X 6.14 X 0.63 inches

1.18 pounds

Medical > Mental Health

English
$0
Available Copies:
0 Copies

Secure Transaction
Book Description
This guide speaks to everyone because the psychiatric conditions covered in this guide--along with the daily stresses and strains of life--are so common as to likely touch (directly or indirectly) the daily lives of most people. The language is purposely practical and familiar though not dumbed down. Each chapter contains a concise discussion of a common psychiatric disorder (or disorders) of children, adults, and seniors. The reader can find a more in-depth discussion of issues in the resources listed in the back of the book. This guide--not intended to be just an intellectual exercise--offers a basis for identifying and understanding the important elements of psychiatric problems in oneself or a loved one. No medical advice is implied herein, but the reader is encouraged to consult a doctor or other mental health professional whenever indicated.
Topics include ADD/ADHD, mood disorders (BipolarI and II), Major Depression, Schizophrenia, the Anxiety Disorders, Substance Abuse, the Adjustment Disorders, Stress Management, the Anniversary Reactions, Alcohol and Drug Dependence, and the Personality Disorders. The common expression depression is subject to special clarification, since too often it does not refer to a medical (psychiatric) mood disorder. Instead, it usually refers to the everyday experiences of situational sadness, or of feeling bummed. This diagnostic confusion is avoidable with the clinical knowledge found in these chapters.
Major Depression is often associated with other medical conditions such as pregnancy, grief, chronic pain, heart attack, and cancer, to name just a few. They receive attention, as does Suicide, the ultimate tragedy of the mood disorders. Bouncing back from trauma or catastrophe takes up its own segment, along with demoralization. Sooner or later, everyone faces crises and either caves in or rises to the occasion, depending on their hardiness and resilience. The discussion shows how to cultivate these capacities.
Certain times of the year or specific dates can bring up unexpected emotional distress. Examples include the holiday blues and the sudden downs of Mother's Day and Father's Day. One chapter deals with those Anniversary Reactions and additional ones that echo forth on Thanksgiving, Christmas, New Year's, Weddings, and Birthdays, to name a few. The focus is on what they are, what they are not, why they happen, and how to handle them. Alcohol and drug dependence receive attention, featuring diagnoses and withdrawal treatments. There are two chapters on Alzheimer's and the Dementias, as well as sections in other chapters about Depression in the elderly (especially following stroke), and Depression accompanying Parkinson's. The Dementia chapters discuss the important issues in cognitive impairment, including the capacity to grasp--the mental capacity to participate in Informed Consent--the legal and ethical premise for decision-making. And finally, caregivers receive the attention they deserve. Theirs is a sad and lonely responsibility. It is difficult for most people to imagine the horror of becoming the object of a spouse's paranoia, or no longer being recognized by a loved one.
There are ten personality disorders discussed, divided into two chapters. Examples include Antisocial, Paranoid, Histrionic, Narcissistic, Borderline, Obsessive Compulsive, and Dependent Personality Disorders. Emphasis is on distinguishing them from the major (biologically based) conditions like the mood and anxiety disorders, partly because the therapeutics are very different and the medico-legal implications can be important.
Psych Consults: A Concise Guide to Common Psychiatric Conditions