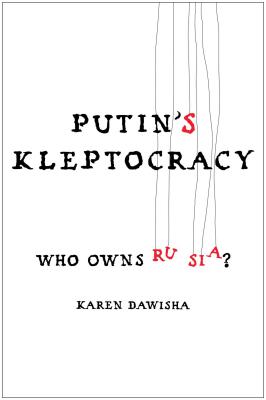 Karen Dawisha

Simon & Schuster
Putin's Kleptocracy: Who Owns Russia?
0

Rate this book

Key Metrics
Karen Dawisha

Simon & Schuster

Hardcover

9781476795195

9.1 X 6.3 X 1.4 inches

1.4 pounds

Political Science > World - Russian & Former Soviet Union

English
$0
Available Copies:
0 Copies

Secure Transaction
Book Description
The raging question in the world today is who is the real Vladimir Putin and what are his intentions. Karen Dawisha's brilliant Putin's Kleptocracy provides an answer, describing how Putin got to power, the cabal he brought with him, the billions they have looted, and his plan to restore the Greater Russia. Russian scholar Dawisha describes and exposes the origins of Putin's kleptocratic regime. She presents extensive new evidence about the Putin circle's use of public positions for personal gain even before Putin became president in 2000. She documents the establishment of Bank Rossiya, now sanctioned by the US; the rise of the Ozero cooperative, founded by Putin and others who are now subject to visa bans and asset freezes; the links between Putin, Petromed, and Putin's Palace near Sochi; and the role of security officials from Putin's KGB days in Leningrad and Dresden, many of whom have maintained their contacts with Russian organized crime. Putin's Kleptocracy is the result of years of research into the KGB and the various Russian crime syndicates. Dawisha's sources include Stasi archives; Russian insiders; investigative journalists in the US, Britain, Germany, Finland, France, and Italy; and Western officials who served in Moscow. Russian journalists wrote part of this story when the Russian media was still free. Many of them died for this story, and their work has largely been scrubbed from the Internet, and even from Russian libraries, Dawisha says. But some of that work remains.
Putin's Kleptocracy: Who Owns Russia?
Author Bio
Karen Dawisha was the first Walter E. Havighurst Professor of Political Science in the Department of Political Science at Miami University in Oxford, Ohio, and the founding Director of the Havighurst Center for Russian and Post-Soviet Studies.
Dr. Dawisha received her Ph.D. from the London School of Economics in 1975 and taught at a number of British and American universities before coming to Miami in 2000. In addition to establishing the Havighurst Center, she did research and taught in the areas of post-communist transitions and Russian politics.
One of the projects she most enjoyed at the Havighurst Center was the Silk Road Project. Dr. Dawisha was the Principal Investigator for two grants from the Department of Education and Fulbright-Hays for the development of new courses that extended the reach of Middle East, East Asian and Eurasian Studies at Miami University into Central Asia. As part of that curricular development, she organized a 7-week trip for 15 faculty from western China through Central Asia to Turkey. You can visit the website for that trip, and other Silk Road related activities.
Dr. Dawisha's final book, Putin's Kleptocracy: Who Owns Russia? (Simon & Schuster 2014), chronicles the rise of Vladimir Putin during his time in St. Petersburg in the 1990s. With painstaking research to support her claims, Dr. Dawisha exposed how Putin's friends and coworkers from his formative years have accumulated mass amounts of wealth and power. Dr. Dawisha was featured in the New York Times, The Economist, The Wall Street Journal, and Foreign Affairs. She spoke at the Woodrow Wilson Center, U.S. State Department, and the Hudson Institute.
Source: Miami University