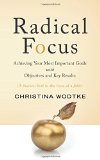 Radical Focus: Achieving Your Most Important Goals with Objectives and Key Results
Interview with Christina R Wodtke
November 16, 2016
Sign Up. Full interview.
About Christina R Wodtke
Christina Wodtke is coaching, advising, teaching and consulting, with the single goal of bringing great products into the world. As well, she is working on her new book, The Executioner's Tale (working title) about using OKRS (Objectives and Key Results), predictive roadmaps, and a cadence of commitment and celebration to build higher performance teams.
Most recently she led the creation of a social network/gaming platform as a General Manager of Zynga.com at Zynga, she was General Manager of Social at Myspace, Principal Product Manager at Linkedin and Sr Director of Design at Yahoo back when yahoo was pretty neat.
Additionally, she likes founding things: she founded a startup where she developed the collaborative blogging tool PublicSquare, Boxes and Arrows, an online magazine of design, and co-founded the Information Architecture Institute. She may found again.
Along the way she wrote the bestselling Information Architecture: Blueprints for the Web, and has spoken on the topic of the human experience in information spaces at conferences worldwide. She writes still at eleganthack.com.
Interview Summary
When businesses succeed, they do so by setting goals and achieving milestones, but, most importantly, by focusing on key results as a way to measure progress. However, many startups and organizations get distracted, and there are plenty of diversions even for the most disciplined ones.
Christina R Wodtke, author, speaker and a successful entrepreneur, explains in an interview with Readara why entrepreneurs need to focus on few objectives and measure performance with quantitative metrics.  She shares experience and insights drawn from her time at some of the hottest startups in Silicon Valley. 
Key Topics
What challenges do entrepreneurs and startups face?
How do entrepreneurs fight the long odds against the success they hope to achieve?
What is the framework of Radical Focus?
What are the fundamentals of Objectives and Key Results (OKR)?
How are OKRs for product teams formulated?
What is the importance of team building and communication within the team?
How critical for a team is it to celebrate goal achievement?
Dreamers to executioners – timeline and rhythm of execution
Other Books by Author