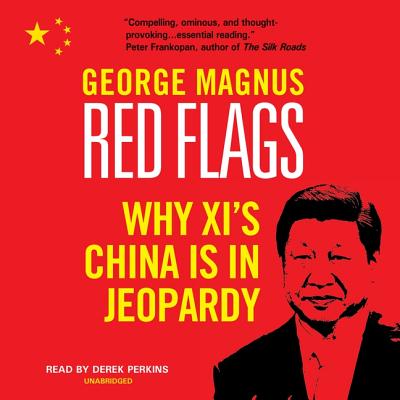 Blackstone Publishing
Red Flags: Why Xi's China Is in Jeopardy
0

Rate this book

Key Metrics
Blackstone Publishing

Audio

9781982527761

5.6 X 5.8 X 1.1 inches

0.4 pounds

Political Science > World - Asian

English
$0
Available Copies:
0 Copies

Secure Transaction
Book Description
Will China rule the world or will its dream turn into a nightmare? George Magnus, the trusted economic commentator on China, provides a penetrating account of the threats to China's continued rise.
Over the past four decades, China's remarkable transformation has garnered admiration but also sparked concern. Magnus draws on his intimate knowledge of this dynamic nation to uncover the origins of its ascent and show why the economic traps it faces at home, and the political challenges it faces abroad, pose a serious threat to its continued rise.
President Xi, possibly now leader for life, is determined to realize the Chinese Dream of rejuvenating the nation and consigning to history the century of humiliation. But Magnus warns that the Middle Kingdom's future rests on the willingness of its leader to embrace reform and open up, a philosophy that is at odds with his actions to date.
Engagingly weaving together economics, politics, and history, Red Flags is an authoritative and lucid account of the troubled times that lie ahead for a nation whose economic fortunes are closely intertwined with our own.
Red Flags: Why Xi's China Is in Jeopardy
Author Bio
George Magnus is an independent economist and commentator, and Research  Associate at the China Centre, Oxford University, and at the School of Oriental and African Studies, London.
George was the Chief Economist, and then Senior Economic Adviser at UBS Investment Bank from 1995-2012. He had a front row seat and key managerial position for multiple episodes of boom and bust in both advanced economies and emerging markets, including notably the Great Financial Crisis of 2008. George famously anticipated it in 2006-2007 with a series of research papers in which he warned of an impending Minsky Moment. Whilst at UBS, he served for four years as the Chair of the Investment Committee of the pension and life assurance fund. For four years until 2016, he served finally as an external senior adviser with clients of the investment bank.
He had previously worked as the Chief Economist at SG Warburg (1987-1995), and before that in a senior capacity before 'Big Bang' at Laurie Milbank/Chase Securities, and before that, Bank of America in London and San Francisco.
George is closely followed nowadays for his insights and observations about the global economy in general, and China and demographics, in particular. His China focus derives from a long period of observation and study that goes back to his first visit in 1994. He also opines regularly on demographic trends around the world, as well as on key issues nowadays such as Brexit, and the US and world economy. He is a regular contributor to the Financial Times, Prospect Magazine, BBC TV and radio, Bloomberg TV and other outlets. His written work and a blog can be found on his website at www.georgemagnus.com
George's current book, Red Flags: why Xi's China is in Jeopardy was published in September 2018 by Yale University Press. It examines China's contemporary economic and commercial challenges and aspirations to modernity in the light of a governance system that is a throwback to much earlier times in the People's Republic.  His earlier books are The Age of Aging (2008), which investigated the effects of the unique experience of demographic change on the global economy; and Uprising: will emerging markets shape or shake the world economy? (2011) which examined the rise of China and other major emerging markets, and questioned controversially the widely accepted narrative that China was destined to rule the world.
Source: GeorgeMagnus.com
more