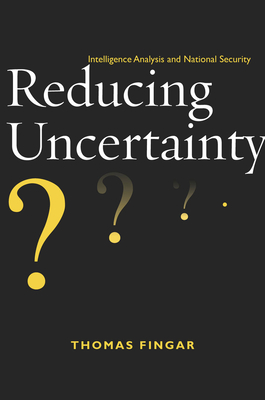 Stanford Security Studies
Reducing Uncertainty: Intelligence Analysis and National Security
0

Rate this book

Key Metrics
Stanford Security Studies

Paperback

9780804775946

8.9 X 5.9 X 0.6 inches

0.6 pounds

Political Science > Intelligence & Espionage

English
$0
Estimated Arrival:
Jan 28 -Feb 1
Available Copies:
10+ Copies

Secure Transaction
Book Description
The US government spends billions of dollars every year to reduce uncertainty: to monitor and forecast everything from the weather to the spread of disease. In other words, we spend a lot of money to anticipate problems, identify opportunities, and avoid mistakes. A substantial portion of what we spend--over $50 billion a year--goes to the US Intelligence Community.
Reducing Uncertainty describes what Intelligence Community analysts do, how they do it, and how they are affected by the political context that shapes, uses, and sometimes abuses their output. In particular, it looks at why IC analysts pay more attention to threats than to opportunities, and why they appear to focus more on warning about the possibility of bad things happening than on providing the input necessary for increasing the likelihood of positive outcomes.
The book is intended to increase public understanding of what IC analysts do, to elicit more relevant and constructive suggestions for improvement from outside the Intelligence Community, to stimulate innovation and collaboration among analysts at all grade levels in all agencies, and to provide a core resource for students of intelligence. The most valuable aspect of this book is the in-depth discussion of National Intelligence Estimates--what they are, what it means to say that they represent the most authoritative judgments of the Intelligence Community, why and how they are important, and why they have such high political salience and symbolic importance. The final chapter lays out, from an insider's perspective, the story of the flawed Iraq WMD NIE and its impact on the subsequent Iran nuclear NIE--paying particular attention to the heightened political scrutiny the latter received in Congress following the Iraq NIE debacle.
Reducing Uncertainty: Intelligence Analysis and National Security
Author Bio
Thomas Fingar is a Shorenstein APARC Fellow in the Freeman Spogli Institute for International Studies at Stanford University. He was the inaugural Oksenberg-Rohlen Distinguished Fellow from 2010 through 2015 and the Payne Distinguished Lecturer at Stanford in 2009.
From 2005 through 2008, he served as the first deputy director of national intelligence for analysis and, concurrently, as chairman of the National Intelligence Council. Fingar served previously as assistant secretary of the State Department's Bureau of Intelligence and Research (2000-01 and 2004-05), principal deputy assistant secretary (2001-03), deputy assistant secretary for analysis (1994-2000), director of the Office of Analysis for East Asia and the Pacific (1989-94), and chief of the China Division (1986-89). 
Between 1975 and 1986 he held a number of positions at Stanford University, including senior research associate in the Center for International Security and Arms Control.
Fingar is a graduate of Cornell University (A.B. in Government and History, 1968), and Stanford University (M.A., 1969 and Ph.D., 1977 both in political science). His most recent books are From Mandate to Blueprint: Lessons from Intelligence Reform (Stanford University Press, 2021), Reducing Uncertainty: Intelligence Analysis and National Security (Stanford University Press, 2011), The New Great Game: China and South and Central Asia in the Era of Reform, editor (Stanford University Press, 2016), Uneasy Partnerships: China and Japan, the Koreas, and Russia in the Era of Reform (Stanford, 2017), and Fateful Decisions: Choices that will Shape China's Future, co-edited with Jean Oi (Stanford, 2020). 
His most recent article is, "The Role of Intelligence in Countering Illicit Nuclear-Related Procurement," in Matthew Bunn, Martin B. Malin, William C. Potter, and Leonard S Spector, eds., Preventing Black Market Trade in Nuclear Technology (Cambridge, 2018)."
Dr. Fingar is currently researching China and the World.
Source: Stanford University Freeman Spogli Institute for International Studies
more