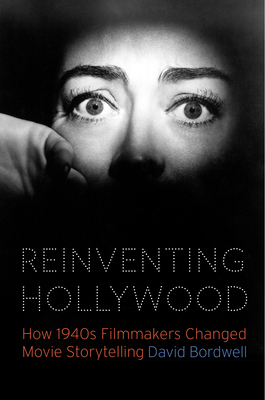 University of Chicago Press
Reinventing Hollywood: How 1940s Filmmakers Changed Movie Storytelling
0

Rate this book

Key Metrics
University of Chicago Press

Paperback

9780226639550

8.9 X 6 X 1.6 inches

1.95 pounds

Technology & Engineering > Telecommunications

English
$0
Available Copies:
0 Copies

Secure Transaction
Book Description
In the 1940s, American movies changed. Flashbacks began to be used in outrageous, unpredictable ways. Soundtracks flaunted voice-over commentary, and characters might pivot from a scene to address the viewer. Incidents were replayed from different characters' viewpoints, and sometimes those versions proved to be false. Films now plunged viewers into characters' memories, dreams, and hallucinations. Some films didn't have protagonists, while others centered on anti-heroes or psychopaths. Women might be on the verge of madness, and neurotic heroes lurched into violent confrontations. Combining many of these ingredients, a new genre emerged--the psychological thriller, populated by women in peril and innocent bystanders targeted for death.
If this sounds like today's cinema, that's because it is. In Reinventing Hollywood, David Bordwell examines the full range and depth of trends that crystallized into traditions. He shows how the Christopher Nolans and Quentin Tarantinos of today owe an immense debt to the dynamic, occasionally delirious narrative experiments of the Forties. Through in-depth analyses of films both famous and virtually unknown, from Our Town and All About Eve to Swell Guy and The Guilt of Janet Ames, Bordwell assesses the era's unique achievements and its legacy for future filmmakers. Reinventing Hollywood is a groundbreaking study of how Hollywood storytelling became a more complex art and essential reading for lovers of popular cinema.

Reinventing Hollywood: How 1940s Filmmakers Changed Movie Storytelling
Author Bio
David Bordwell is Jacques Ledoux Professor of Film Studies, Department of Communication Arts, University of Wisconsin–Madison. Professor Bordwell has written several books focusing on the history of film style, film narration, and the poetics of cinema. 
In 2013, film historian and theorist David Bordwell deposited approximately 125 film prints at the Academy Film Archive, all in 35mm. The David Bordwell Collection is particularly noteworthy for the strength of its Hong Kong holdings, some of which are unavailable in any other English-translated format. The collection includes such titles as "Crippled Avengers" (1979), "Once Upon a Time in China I-V" (1991-1994), "Iron Monkey" (1993), "Green Snake" (1994), and "Naked Killer" (1995), as well as non-Hong Kong titles such as "Desperately Seeking Susan" (1985), "Prospero's Books" (1991), and "The Long Day Closes" (1992).  
Research Interests 
Introduction to Graduate Study in Film
Seminar in Film Analysis
Seminar in Contemporary Film Theory
Seminar in Contemporary Film Criticism
Narrative Theory and Film
Japanese Cinema
Japanese Cinema of the 1930s
Technology and Technique in American Cinema
Space and Narration in the Fiction Film
The Films of Jean-Luc Godard
Cognitive Poetics of Cinema
Stylistic Analysis of Film
The Film Spectator
Contemporary Asian Cinema
Comparative Film Analysis
Education 
B.A. (English) State University of New York at Albany, 1969
M.A. (Speech and Dramatic Arts, concentration in Film) University of Iowa, 1972
Ph.D. (Speech and Dramatic Arts, concentration in Film) University of Iowa, 1974.
Honorary degree: Doctora philosophiæ honoris causa, University of Copenhagen. Awarded 13 November 1997.
Source: davidbordwell.net and Oscars.org 
more