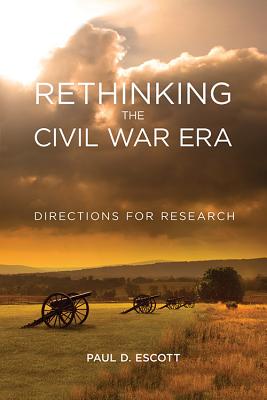 University Press of Kentucky
Rethinking the Civil War Era: Directions for Research
0

Rate this book

Key Metrics
University Press of Kentucky

Hardcover

9780813175355

9 X 21.9 X 0.8 inches

0.9 pounds

History > United States - Civil War Period (1850-1877)

English
$0
Available Copies:
0 Copies

Secure Transaction
Book Description
Arguably, no event since the American Revolution has had a greater impact on US history than the Civil War. This devastating and formative conflict occupies a permanent place in the nation's psyche and continues to shape race relations, economic development, and regional politics. Naturally, an event of such significance has attracted much attention from historians, and tens of thousands of books have been published on the subject. Despite this breadth of study, new perspectives and tools are opening up fresh avenues of inquiry into this seminal era.
In this timely and thoughtful book, Paul D. Escott surveys the current state of Civil War studies and explores the latest developments in research and interpretation. He focuses on specific issues where promising work is yet to be done, highlighting subjects such as the deep roots of the war, the role of African Americans, and environmental history, among others. He also identifies digital tools which have only recently become available and which allow researchers to take advantage of information in ways that were never before possible. Rethinking the Civil War Era is poised to guide young historians in much the way that James M. McPherson and William J. Cooper Jr.'s Writing the Civil War: The Quest to Understand did for a previous generation. Escott eloquently charts new ways forward for scholars, offering ideas, questions, and challenges. His work will not only illuminate emerging research but will also provide inspiration for future research in a field that continues to adapt and change.
Rethinking the Civil War Era: Directions for Research
Author Bio
Paul D. Escott earned his B.A. degree cum laude from Harvard College and his Master's and Ph.D. degrees from Duke University. He taught at UNC Charlotte before coming to Wake Forest, where he served for nine years as Dean of the College.  
He is a member of Phi Beta Kappa, has received fellowships from the Whitney Young, Jr., Foundation and the Rockefeller Foundation, and twice won an award for the best non-fiction book published by a resident of North Carolina. 
His most recent book is Lincoln's Dilemma: Blair, Sumner, and the Republican Struggle over Racism and Equality in the Civil War Era. 
He comments: "The history of the Civil War Era looms large in our nation's struggles to overcome racism and realize its ideals of freedom and equality. Even today popular culture misrepresents the reality of the Civil War era in ways that obscure our understanding of our society's past. Excessive glorification of the Confederacy or the Union can blind us to the nature of the problems that the United States has had to surmount or struggles with still."
Education
 
B.A.      Harvard College 1969
M.A.    Duke University 1972
Ph.D.    Duke University 1974
Source: Wake Forest University 
more