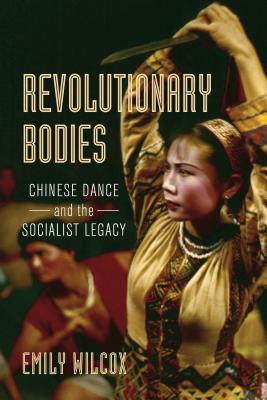 University of California Press
Revolutionary Bodies: Chinese Dance and the Socialist Legacy
0

Rate this book

Key Metrics
University of California Press

Paperback

9780520300576

9.02 X 5.98 X 0.68 inches

0.96 pounds

Social Science > Anthropology - Cultural & Social

English
$0
Estimated Arrival:
Oct 4 -Oct 6
Available Copies:
10+ Copies

Secure Transaction
Book Description
A free ebook version of this title is available through Luminos, University of California Press's Open Access publishing program. Visit www.luminosoa.org to learn more.
This book is freely available in an open access edition thanks to TOME (Toward an Open Monograph Ecosystem)--a collaboration of the Association of American Universities, the Association of University Presses, and the Association of Research Libraries. Learn more at the TOME website, available at: openmonographs.org.
Revolutionary Bodies is the first English-language primary source-based history of concert dance in the People's Republic of China. Combining over a decade of ethnographic and archival research, Emily Wilcox analyzes major dance works by Chinese choreographers staged over an eighty-year period from 1935 to 2015. Using previously unexamined film footage, photographic documentation, performance programs, and other historical and contemporary sources, Wilcox challenges the commonly accepted view that Soviet-inspired revolutionary ballets are the primary legacy of the socialist era in China's dance field. The digital edition of this title includes nineteen embedded videos of selected dance works discussed by the author.
Revolutionary Bodies: Chinese Dance and the Socialist Legacy
Author Bio
Dr. Emily Wilcox joined the Department of Modern Languages and Literatures at William & Mary as tenured Associate Professor of Chinese Studies in January 2021. Wilcox was formerly a Visiting Assistant Professor in the Chinese Program at William & Mary in 2011-13 and served as Program Director of the William & Mary Summer in Beijing Program in 2013. She taught at the University of Michigan from 2013 to 2020, where she was most recently tenured Associate Professor of Modern Chinese Studies and Associate Chair and Director of Graduate Studies in the Department of Asian Languages and Cultures, as well as Affiliate Faculty in the School of Music, Theatre, and Dance. Wilcox holds an undergraduate degree from Harvard University, an MPhil from the University of Cambridge, and a PhD from the University of California, Berkeley. 
She has been the recipient of major grants and fellowships from the Blakemore Foundation, the U.S. Fulbright Program, the U.S. Foreign Language and Area Studies Program, the American Council of Learned Societies, the Social Science Research Council, and the Woodrow Wilson International Center for Scholars. Wilcox publishes actively in both English and Chinese, and she frequently gives lectures around the world, especially in Asia.
Wilcox is an award-winning scholar of modern and contemporary China whose work spans the fields of PRC history, inter-Asia cultural studies, Chinese ethnic minority studies, and transnational Sinophone and Chinese diaspora studies. She is a recognized international leader in the study of Chinese dance and performance. Wilcox's first book, Revolutionary Bodies: Chinese Dance and the Socialist Legacy, was published by the University of California Press in 2018 and won the 2019 de la Torre Bueno Prize® from the Dance Studies Association. 
It is the first scholarly monograph in the English language to examine the historical development of concert dance in the People's Republic of China. Those interested in learning more can listen to Wilcox's New Books Network podcast or view her recorded book talks in English or Chinese. A Chinese translation, titled ??????: ????????????? , is forthcoming from Fudan University Press in 2021.
Wilcox's second book, Corporeal Politics: Dancing East Asia, co-edited with Dr. Katherine Mezur, was published by the University of Michigan Press in 2020. It examines the intersection of dance and politics in the East Asia region, including mainland China, Hong Kong, Japan, North and South Korea, and Taiwan. Since 2014, Wilcox has been the lead faculty collaborator for the Chinese Dance special collection at the University of Michigan Asia Library. In 2017, Wilcox worked with UM Chinese Studies Librarian Dr. Liangyu Fu ??? to launch the Pioneers of Chinese Dance digital photograph archive and the public-facing exhibition "Chinese Dance: National Movements in a Revolutionary Age, 1945-1965." Wilcox and Fu are currently co-authoring an Open Access bilingual book about the collection and the exhibition with Maize Books. 
An active researcher, Wilcox has published more than twenty scholarly articles and book chapters on dance and performance in Asia. A full list, including downloadable pdfs, of her publications can be found here. Wilcox's current writing projects include two book-length translations of Chinese scholarship on contemporary Chinese dance history, a co-edited collection on teaching Chinese film, a co-authored special issue on inter-Asia dance, and a new monograph on inter-Asia dance and solidarity politics in the mid-twentieth century.
Wilcox regularly serves in leadership positions in professional associations and editorial boards. She was President of the Association for Asian Performance in 2015-2017 and a Board Member of the Society for Dance History Scholars in 2014-2016. She is currently a member of the Board of Directors, Co-Chair of the Nominations Committee, and a member of the Awards and Conferences Committees of the Dance Studies Association. 
She also runs the Dance Studies Association Asian and Asian Diaspora Dance Studies Working Group. Wilcox was a member of the University of Michigan Press Executive Committee in 2019-2020, and she currently serves as co-editor with Mary Gallagher of the "China Understandings Today" book series sponsored by the University of Michigan Lieberthal-Rogel Center for Chinese Studies and the University of Michigan Press. Following her move to William & Mary in 2021, Wilcox continues as a Center Associate of the University of Michigan Lieberthal-Rogel Center for Chinese Studies and an external faculty collaborator for the University of Michigan Center for World Performance Studies. 
Wilcox regularly organizes artist residencies, lectures, classes, and performances by dancers and choreographers from China in the United States. She is an avid promoter of international artistic and scholarly exchange and serves on advisory and review boards for several dance research organizations in Asia.
Wilcox is a devoted teacher and mentor who loves working with students at all levels of their scholarly journeys. In 2019, Wilcox received the Class of 1923 Memorial Teaching Award for outstanding teaching of undergraduates at the University of Michigan. While she was at Michigan, she served as an advisor for master's and doctoral students in the PhD in Asian Languages and Cultures, the MA in Chinese Studies, the Graduate Certificate in World Performance Studies, and the MFA in Dance. She regularly mentors undergraduate research and serves as an external committee member for graduate students across the US and internationally. 
As a first-generation college graduate, Wilcox enjoys working with students of diverse backgrounds and is committed to overcoming barriers to higher education for all students. Syllabi for Wilcox's past and current courses and a list of past and current advisees can be found here. If you are interested in applying to work with Dr. Wilcox, please email her directly at eewilcox@wm.edu for more information.
Source: William & Mary 
Photo Credit: John R Diehl 
more
Videos