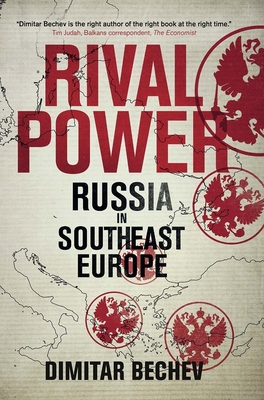 Dimitar Bechev

Yale University Press
Rival Power: Russia in Southeast Europe
0

Rate this book

Key Metrics
Dimitar Bechev

Yale University Press

Hardcover

9780300219135

8.8 X 5.7 X 1.2 inches

1.2 pounds

Political Science > International Relations - General

English
$0
Available Copies:
0 Copies

Secure Transaction
Book Description
A nuanced and comprehensive study of the political dynamics between Russia and key countries in Southeast Europe Is Russia threatening to disrupt more than two decades' of E.U. and U.S. efforts to promote stability in post-communist Southeast Europe? Politicians and commentators in the West say, yes. With rising global anxiety over Russia's political policies and objectives, Dimitar Bechev provides the only in-depth look at this volatile region. Deftly unpacking the nature and extent of Russian influence in the Balkans, Greece, and Turkey, Bechev argues that both sides are driven by pragmatism and opportunism rather than historical loyalties. Russia is seeking to assert its role in Europe's security architecture, establish alternative routes for its gas exports--including the contested Southern Gas Corridor--and score points against the West. Yet, leaders in these areas are allowing Russia to reinsert itself to serve their own goals. This urgently needed guide analyzes the responses of regional NATO members, particularly regarding the annexation of Crimea and the Putin-Erdogan rift over Syria.
Rival Power: Russia in Southeast Europe
Author Bio
Dr. Dimitar Bechev is a nonresident senior fellow with the Atlantic Council's Europe Center. He is also a research fellow at the Center of Slavic, Eurasian, and East European Studies at the University of North Carolina at Chapel Hill and the director of the European Policy Institute, a think-tank based in Sofia, Bulgaria.
Dr. Bechev has published extensively, in both academic and policy format, on EU foreign relations, the politics of Turkey and the Balkans, Russian foreign policy, and energy security. His book Rival Power, published by Yale University Press in 2017, explores Russia's role in Southeast Europe (Balkans, Greece, Cyprus, and Turkey). He has held research and teaching positions at Oxford and Hitotsubashi University in Tokyo as well as visiting fellowships at Harvard and the London School of Economics. From 2010 to 2014, he was the head of the European Council on Foreign Relations (ECFR) office in Sofia.
Dr. Bechev is a frequent contributor to Foreign Policy, Al Jazeera Online, Oxford Analytica, POLITICO, and EUObserver. His quotes have appeared in leading newspapers such as the Financial Times, the Economist, the Wall Street Journal, and the New York Times. He holds a DPhil in international relations from the University of Oxford.
Source: Atlantic Council