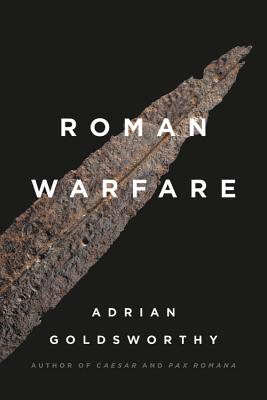 Basic Books
Roman Warfare
0

Rate this book

Key Metrics
Basic Books

Paperback

9781541699236

8.1 X 5.4 X 0.9 inches

0.5 pounds

History > Military - Ancient

English
$0
Available Copies:
0 Copies

Secure Transaction
Book Description
From an award-winning historian of ancient Rome, a concise and comprehensive history of the fighting forces that created the Roman Empire
Roman warfare was relentless in its pursuit of victory. A ruthless approach to combat played a major part in Rome's history, creating an empire that eventually included much of Europe, the Near East and North Africa. What distinguished the Roman army from its opponents was the uncompromising and total destruction of its enemies. Yet this ferocity was combined with a genius for absorbing conquered peoples, creating one of the most enduring empires ever known.
In Roman Warfare, celebrated historian Adrian Goldsworthy traces the history of Roman warfare from 753 BC, the traditional date of the founding of Rome by Romulus, to the eventual decline and fall of Roman Empire and attempts to recover Rome and Italy from the barbarians in the sixth century AD. It is the indispensable history of the most professional fighting force in ancient history, an army that created an Empire and changed the world.
Roman Warfare
Author Bio
Adrian Goldsworthy was a Junior Research Fellow at Cardiff University for two years and subsequently taught part-time at King's College London and was an assistant professor on the University of Notre Dame's London program for six years. He also did bits and pieces of teaching at other universities. He has lectured on a range of topics, including both Greek and (particularly) Roman History, but also taught a course on the military history of the Second World War at Notre Dame.
While at St John's College, Oxford University he was awarded a D.Phil. in Literae Humaniores (Ancient History) in 1994. The topic of his thesis was 'The Roman Army as a fighting force, 100 BC-AD 200'. A modified version of this was subsequently published in the Oxford Monographs series under the title of The Roman Army at War, 100 BC - AD 200 (1996). This remains in print and is one of the best selling works in the series.
Source: AdrianGoldsworthy.com
more