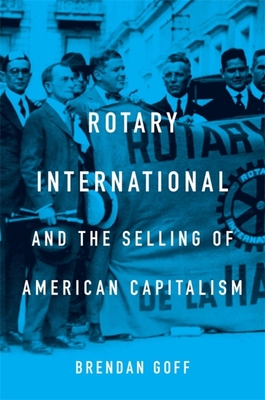 Harvard University Press
Rotary International and the Selling of American Capitalism
0

Rate this book

Key Metrics
Harvard University Press

Hardcover

9780674989795

-

-

History > United States - 20th Century

English
$0
Available Copies:
0 Copies

Secure Transaction
Book Description
A new history of Rotary International shows how the organization reinforced capitalist values and cultural practices at home and tried to remake the world in the idealized image of Main Street America.
Rotary International was born in Chicago in 1905. By the time World War II was over, the organization had made good on its promise to girdle the globe. Rotary International and the Selling of American Capitalism explores the meteoric rise of a local service club that brought missionary zeal to the spread of American-style economics and civic ideals.
Brendan Goff traces Rotary's ideological roots to the business progressivism and cultural internationalism of the United States in the early twentieth century. The key idea was that community service was intrinsic to a capitalist way of life. The tone of service above self was often religious, but, as Rotary looked abroad, it embraced Woodrow Wilson's secular message of collective security and international cooperation: civic internationalism was the businessman's version of the Christian imperial civilizing mission, performed outside the state apparatus. The target of this mission was both domestic and global. The Rotarian, the organization's publication, encouraged Americans to see the world as friendly to Main Street values, and Rotary worked with US corporations to export those values. Case studies of Rotary activities in Tokyo and Havana show the group paving the way for encroachments of US power--economic, political, and cultural--during the interwar years.
Rotary's evangelism on behalf of market-friendly philanthropy and volunteerism reflected a genuine belief in peacemaking through the world's parliament of businessmen. But, as Goff makes clear, Rotary also reinforced American power and interests, demonstrating the tension at the core of US-led internationalism.
Rotary International and the Selling of American Capitalism
Author Bio
Brendan Goff is an independent scholar who writes about U.S. cultural, international, and business history. He was most recently Assistant Professor of History at New College of Florida, and was formerly a fellow at the Eisenberg Institute for Historical Studies at the University of Michigan.
Brendan Goff received his Ph.D. in History at the University of Michigan in 2008 (with a focus on modern U.S. international history). Before coming to New College of Florida, Dr. Goff held a post-doctoral fellowship at the Eisenberg Institute for Historical Studies at the University of Michigan and then served as a lecturer in the Honors Program at the University of Michigan.
Before entering the Ph.D. program at Michigan, Dr. Goff was a freelance English teacher in Madrid, Spain; worked in a major bank in New York City; studied philosophy in Glasgow, Scotland; assisted in the government and community affairs division of the Children's Defense Fund in Washington, D.C., and attended seminary.
Source: New College of Florida 
more
Videos