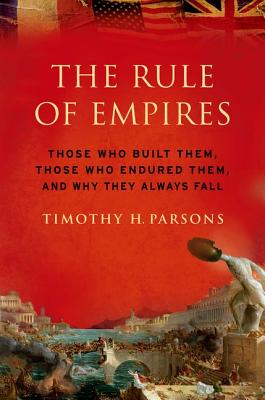 Oxford University Press, USA
Rule of Empires: Those Who Built Them, Those Who Endured Them, and Why They Always Fall
0

Rate this book

Key Metrics
Oxford University Press, USA

Paperback

9780199931156

9.2 X 6.1 X 1.4 inches

1.45 pounds

History > World - General

English
$0
Estimated Arrival:
Dec 9 -Dec 13
Available Copies:
10+ Copies

Secure Transaction
Book Description
In
The Rule of Empires
, Timothy Parsons gives a sweeping account of the evolution of empire from ancient Rome to its most recent twentieth-century embodiment. He explains what constitutes an empire, what empires of the past can tell us about our own historical moment, and perhaps most important, why empires always fail.
Writing from the perspective of the common subject rather than that of the imperial conquerors, Parsons offers a historically grounded cautionary tale rich with accounts of subjugated peoples throwing off the yoke of empire time and time again. The book takes us inside ancient Rome's conquest of Britain, Muslim rule in Spain, Spain's empire in Peru, Britain's new imperialism in India and Kenya, and the Third Reich's occupation of France, among other examples. Parsons illuminates the features common to all these empires, their evolutions and self-justifying myths, and the reasons for their inevitable decline. He argues that far from confirming some sort of Darwinian hierarchy of advanced and primitive societies, these conquests were invariably the product of a temporary advantage in military technology, wealth, and political will. And beneath the self-justifying rhetoric of benevolent paternalism and cultural superiority lay a naked desire for power--in short, to loot the wealth and exploit the labor of conquered peoples. Imperial ambitions are still viable in the twenty-first century, Parsons shows, because their defenders and detractors alike employ abstract and romanticized perspectives that fail to grasp the historical reality of subjugation.
In providing an accurate picture of what it is like to live as a subject, The Rule of Empires lays bare the rationalizations of imperial conquerors and their apologists and exposes the true limits of imperial power.

Rule of Empires: Those Who Built Them, Those Who Endured Them, and Why They Always Fall
Author Bio
As a social historian of twentieth century Africa, my research focuses on understanding how ordinary people experienced imperial rule and the transformation of colonies into nation states.  
My books to date have explored how Africans from diverse walks of life navigated the shifting realities of repression and opportunity that emerged during the imperial and early national eras.  
Building on this earlier work, I am currently pursuing several research projects.
- The Historical Geography of Kenyan Identity Formation
- Kenya Becomes a Nation State: Expected and Unexpected Outcomes of Competitive National Imagining During      the Transfer of    Power, 1959-1972
- A World History of the Twentieth Century
Employment 
Professor, Washington University in St. Louis, 2006 to the Present.
Director, International and Area Studies,  2010 to 2015.
Director of Graduate Studies, Department of History, Washington University in St. Louis, 2005 to 2011.
Associate Professor, Washington University in St. Louis, 2002 to 2006.
Director, African and Afro-American Studies Program, Washington University in St. Louis, 2003 to 2005, co-director 2013.
Assistant Professor, Washington University in St. Louis, 1996 to 2002.
Education 
Johns Hopkins University, Ph.D., 1996
George Washington University, M.A., 1991
Wesleyan University, B.A., 1985
Source: Washington University in St Louis 
more