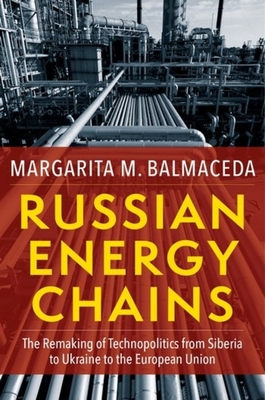 Columbia University Press
Russian Energy Chains: The Remaking of Technopolitics from Siberia to Ukraine to the European Union
0

Rate this book

Key Metrics
Columbia University Press

Paperback

9780231197496

-

-

Business & Economics > Industries - Energy

English
$0
Estimated Arrival:
Aug 11 -Aug 15
Available Copies:
10+ Copies

Secure Transaction
Book Description
Russia's use of its vast energy resources for leverage against post-Soviet states such as Ukraine is widely recognized as a threat. Yet we cannot understand this danger without also understanding the opportunity that Russian energy represents. From corruption-related profits to transportation-fee income to subsidized prices, many within these states have benefited by participating in Russian energy exports. To understand Russian energy power in the region, it is necessary to look at the entire value chain--including production, processing, transportation, and marketing--and at the full spectrum of domestic and external actors involved, from Gazprom to regional oligarchs to European Union regulators.
This book follows Russia's three largest fossil-fuel exports--natural gas, oil, and coal--from production in Siberia through transportation via Ukraine to final use in Germany in order to understand the tension between energy as threat and as opportunity. Margarita M. Balmaceda reveals how this dynamic has been a key driver of political development in post-Soviet states in the period between independence in 1991 and Russia's annexation of Crimea in 2014. She analyzes how the physical characteristics of different types of energy, by shaping how they can be transported, distributed, and even stolen, affect how each is used--not only technically but also politically. Both a geopolitical travelogue of the journey of three fossil fuels across continents and an incisive analysis of technology's role in fossil-fuel politics and economics, this book offers new ways of thinking about energy in Eurasia and beyond.
Russian Energy Chains: The Remaking of Technopolitics from Siberia to Ukraine to the European Union
Author Bio
Professor Margarita M. Balmaceda, Ph.D was born in Buenos Aires, Argentina, but her professional life has centered in the USA (where she received a BA from Johns Hopkins University and an MA and PhD in Politics from Princeton University) and Eastern Europe.
Dr. Balmaceda, Professor of Diplomacy and International Relations, joined the School of Diplomacy and International Relations in 1999, where she received tenure in 2003 and was promoted to Professor in 2010. She teaches courses on the Politics of Ethnic and Cultural Diversity, on Post-Soviet and East European Politics and Foreign Policies, as well on Master's Research Project.
Currently she is an Associate of the Davis Center for Russian and Eurasian Studies and of the Ukrainian Research Institute at Harvard University. A specialist on the comparative energy politics of the post-Soviet states, since 2000 she has been "following the pipeline" – i.e. following the complex web of interconnections that accompany the energy relationship between Russian oil and gas producers, post-Soviet transit states, and European consumers. 
This research agenda has taken her on multiple field research stays in Eastern Europe and the former USSR, including Russia, Ukraine, Belarus, Lithuania, Hungary and Moldova. Support from three Fulbright Awards, as well as funding from the Ford Foundation, the, Humboldt Foundation, the DAAD and many other foundations, has made possible such ambitious research agenda. Fluent in Spanish, Russian, Ukrainian, German, near-fluent in Hungarian and with a good working knowledge of Belarusian, Dr. Balmaceda feels very much at home almost everywhere in Eastern Europe. 
And with the strong international presence at the School of Diplomacy and International Relations, she is happy to use her language skills in many one-to one discussions with her students.
From 2010-2011, under a $235,000 award from the European Union (Marie-Curie Fellowship from the European Commission/FP7 in partnership with the University of Helsinki) she is conducting a project on "Getting energy from Russia to Europe: Domestic political conditions in the energy-poor transit states of and risks to energy transit," an area of research she has developed through, among many publications, her books, 
The Ukrainian-Russian-Central European Security Triangle (Editor, CEU Press, 2000), Energy Dependency, Politics and Corruption in the Former Soviet Union (Routledge 2008) and (under review) The Politics of Energy Dependency: Ukraine, Belarus and Lithuania Between Domestic Oligarchs and Russian Pressure, 1992-2010 and Turning Politics into Economics, Dependency into Power: Belarus, Russia and Energy under Lukashenko.
In addition to her academic research, Dr. Balmaceda is active as a consultant and review committee panelist for a number for grant-making institutions, including, in the past, the National Science Foundation, the Fulbright Program, the International Research and Exchanges Board, the Canadian Social Science and Humanities Council, the Swiss Research Foundation, and the American Councils for International Education (ACTR/ACCEELS).
Education
 
Post-doctoral training in Ukrainian Studies, Harvard University, 1996-1997
Ph.D. in Politics, Princeton University
B.A. in International Studies, Johns Hopkins University
Source: Seton Hall University 
more