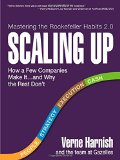 Scaling Up: How a Few Companies Make It...and Why the Rest Don't (Rockefeller Habits 2.0)
Interview with Verne Harnish
February 7, 2017
Sign Up. Full interview.
About Verne Harnish
Verne Harnish is founder of the world-renowned Entrepreneurs' Organization (EO), with over 11,000 members worldwide, and chaired for fifteen years EO's premiere CEO program, the "Birthing of Giants" held at MIT, a program in which he still teaches today.
Founder and CEO of Gazelles, a global executive education and coaching company with over 180 partners on six continents, Verne has spent the past three decades helping companies scale-up.
The "Growth Guy" syndicated columnist, he's also the Venture columnist for FORTUNE magazine. He's the author of the bestseller Mastering the Rockefeller Habits which is translated into 9 languages; and along with the editors of Fortune, authored The Greatest Business Decisions of All Times, for which Jim Collins wrote the foreword. His latest book Scaling Up (Rockefeller Habits 2.0) has won seven major international book awards including the prestigious 2015 International Book Award for Best General Business book. Verne also chairs FORTUNE Magazine's annual ScaleUp and Growth Summits and serves on several boards including chairman of The Riordan Clinic and the newly launched Geoversity.
A private investor in many scale-ups, Verne resides in Barcelona, Spain, with his wife and four children and enjoys piano, tennis, and magic as a card-carrying member of the International Brotherhood of Magicians.
Interview Summary
Managing growth has not always been easy for most entrepreneurs. There are about 28 million firms in the U.S. and only 17,000 surpass $50 million in sales and 2,500 pass $500 million.
There are many factors that maybe beyond the control of most entrepreneurs but many can take steps to increase their odds in scaling up.
In an interview with Readara, author Verne Harnish explains what drives certain business leaders and what it takes for the few who manage to grow their organization and businesses. Those who win are constantly looking for ways to do things and to improve. They attack the issues using the tools and resources they have. They don't sit back and let others pass by.  
Leading a growth company is exhilarating.
Key Topics
What are the four decisions necessary for scaling up?
What are the barriers to scaling up?
How does one scale up from a marginal business to a significant scale?
What is the growth paradox?
What are the complexities and complications along the way of scaling up?
What do entrepreneurs have to do differently in leading people, in setting out a strategy, in driving execution, and in managing cash?
Is there a framework for managing business growth? Drivers, Demands, Disciplines and Decisions.
How do entrepreneurs find that "ping" in the business?
Other Books by Author