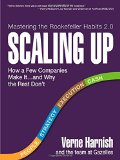 Scaling Up: How a Few Companies Make It...and Why the Rest Don't (Rockefeller Habits 2.0)
Book Summary
Managing growth has not always been easy for most entrepreneurs. There are about 28 million firms in the U.S. and only 17,000 surpass $50 million in sales and 2,500 pass $500 million.
There are many factors that maybe beyond the control of most entrepreneurs but many can take steps to increase their odds in scaling up.
In an interview with Readara, author Verne Harnish explains what drives certain business leaders and what it takes for the few who manage to grow their organization and businesses. Those who win are constantly looking for ways to do things and to improve. They attack the issues using the tools and resources they have. They don't sit back and let others pass by.  
Leading a growth company is exhilarating.
Key Topics
What are the four decisions necessary for scaling up?
What are the barriers to scaling up?
How does one scale up from a marginal business to a significant scale?
What is the growth paradox?
What are the complexities and complications along the way of scaling up?
What do entrepreneurs have to do differently in leading people, in setting out a strategy, in driving execution, and in managing cash?
Is there a framework for managing business growth? Drivers, Demands, Disciplines and Decisions.
How do entrepreneurs find that "ping" in the business?
Other Books by Author