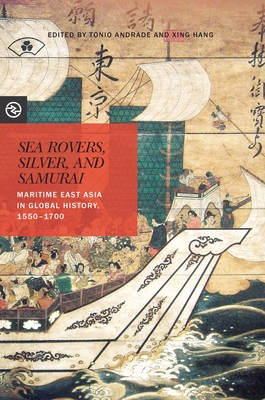 University of Hawaii Press
Sea Rovers, Silver, and Samurai: Maritime East Asia in Global History, 1550-1700
0

Rate this book

Key Metrics
University of Hawaii Press

Hardcover

9780824852764

9.1 X 6.1 X 1.3 inches

1.75 pounds

Transportation > General

English
$0
Available Copies:
0 Copies

Secure Transaction
Book Description
Sea Rovers, Silver, and Samurai traces the roots of modern global East Asia by focusing on the fascinating history of its seaways. The East Asian maritime realm, from the Straits of Malacca to the Sea of Japan, has been a core region of international trade for millennia, but during the long seventeenth century (1550 to 1700), the velocity and scale of commerce increased dramatically. Chinese, Japanese, and Vietnamese smugglers and pirates forged autonomous networks and maritime polities; they competed and cooperated with one another and with powerful political and economic units, such as the Manchu Qing, Tokugawa Japan, the Portuguese and Spanish crowns, and the Dutch East India Company.
Maritime East Asia was a contested and contradictory place, subject to multiple legal, political, and religious jurisdictions, and a dizzying diversity of cultures and ethnicities, with dozens of major languages and countless dialects. Informal networks based on kinship ties or patron-client relations coexisted uneasily with formal governmental structures and bureaucratized merchant organizations. Subsistence-based trade and plunder by destitute fishermen complemented the grand dreams of sea-lords, profit-maximizing entrepreneurs, and imperial contenders. Despite their shifting identities, East Asia's mariners sought to anchor their activities to stable legitimacies and diplomatic traditions found outside the system, but outsiders, even those armed with the latest military technology, could never fully impose their values or plans on these often mercurial agents.
With its multilateral perspective of a world in flux, this volume offers fresh, wide-ranging narratives of the rise of the West or the Great Divergence. European mariners, who have often been considered catalysts of globalization, were certainly not the most important actors in East and Southeast Asia. China's maritime traders carried more in volume and value than any other nation, and the China Seas were key to forging the connections of early globalization--as significant as the Atlantic World and the Indian Ocean basin. Today, as a resurgent China begins to assert its status as a maritime power, it is important to understand the deep history of maritime East Asia.
Sea Rovers, Silver, and Samurai: Maritime East Asia in Global History, 1550-1700
Author Bio
I'm part of a new field in historical studies known as Global History, which focuses on commonalities and connections between the myriad societies on the planet rather than on traditionally-defined political or cultural units. My core geographical area of expertise is China, but my research focuses on interconnections in the Early Modern Period (1500-1800) and on comparative history. 
The main question that fascinates me is: Why did western Europeans, who sat on the far edge of Eurasia and were backward by Asian standards, rise to global prominence starting in the 1500s, establishing durable maritime empires that spanned the seas?
My first book, How Taiwan Became Chinese (2007), examined how Dutch, Spanish, and Chinese colonization met and competed in the Far East and asked why it was that the Chinese prevailed over the Europeans rather than the other way around, suggesting that political will – that is to say state support for expansion – was a key variable. My second book, Lost Colony (2011), examined the Sino-Dutch War of 1661-1668, Europe's first war with China and the only significant Sino-European conflict until the Opium War of 1839–42. 
It asked whether Europeans had – at this early date – any significant advantages in military and naval technology over China and concluded that they did, although not perhaps in the areas people might have expected. My third book, The Gunpowder Age (2016), looked more deeply into China's military past, comparing it to that of Europe, and showing that China's China's dynamism was deeper, longer lasting, and more quickly recovered than has long been believed.
Books 
The Gunpowder Age: China, Military Innovation, and the Rise of the West in World History (Princeton, 2016) 
Lost Colony: The Untold Story of Europe's First War with China (Princeton, 2011)
How Taiwan Became Chinese (Columbia University Press, 2007)
Articles in Journal of World History, Late Imperial China, Canadian Journal of Sociology, Itinerario, and Journal of Asian Studies, among others. Honors include The John Simon Guggenheim Fellowship and the Gutenberg-e Prize.
I accept Ph.D. students not just in Chinese history but also in the history of early modern European colonialism.
Syllabus for History 260: East Asia, 1500 to the Present
Emory Endeavors in World History (undergraduate history journal)

Education
 
BA, Reed College, 1992.
MA, University of Illinois, Urbana- Champaign, 1994.
MA, Yale University, 1997.
MPhil, Yale University, 1998.
PhD, Yale University, 2000.
 
Interests
 
Chinese history
Source: Emory College of Arts & Sciences
more