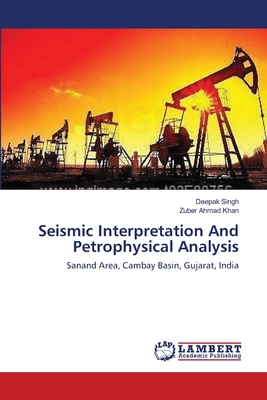 LAP Lambert Academic Publishing
Seismic Interpretation And Petrophysical Analysis
0

Rate this book

Key Metrics
LAP Lambert Academic Publishing

Paperback

9783659162626

9.02 X 5.98 X 0.25 inches

0.36 pounds

Science > Earth Sciences - General

English
$0
Estimated Arrival:
Jul 6 -Jul 8
Available Copies:
10+ Copies

Secure Transaction
Book Description
Research work concerns the seismic interpretation and petrophysical analyses. 3-D seismic data have become the key tool used in the oil and gas industry to understand the subsurface. In the present study, seismic attribute analysis has been done by software SeisWare 6.2. The combination of TWT structural contour maps and attribute analysis suggest the suitable location for drilling targets. After ascertaining the drilling targets petrophysical analysis is necessary to know the possible reservoir intervals, average porosity values, shale volume, formation water saturation and movable hydrocarbon of the study area. In the present project the different horizons of the Sanand area of the Cambay Basin, Gujarat, India have been interpreted on the basis of seismic stratigraphy. Among all these different formations the lithology of the Kalol Formation reconstructed by using wireline logs. The lithology mainly has silt, shale and small amount of sand. Coal beds are main characteristic of the Kalol Formation. The depositional environments of Kalol Formation have been determined by various methods that indicate terrestrial to transient/shallow marine environment.
Seismic Interpretation And Petrophysical Analysis
Author Bio
Deepak Singh is a writer, radio producer, and journalist. He is a frequent contributor to PRI's The World and has written for The New York Times, NPR, The Boston Globe and The Atlantic.
Source: University of California Press 
Coming to the U.S. can knock immigrants' careers off track for years. For new arrivals, integration is often an important part of achieving financial stability, as studies of upward and downward economic mobility have documented.
Deepak Singh grew up in northern India. He had a bachelor's degree in commerce, an MBA, and a job with the BBC World Service in his hometown of Lucknow. Unexpectedly, he met a young woman visiting from western Pennsylvania at a local library; the two fell in love, got married, and decided that Singh would move to Virginia, where she was attending graduate school.
In his new book, How May I Help You?: An Immigrant's Journey From M.B.A. to Minimum Wage, Singh chronicles his move to small-town Virginia, where he started working a job in retail.* The book reads like an ethnography, documenting Singh's work experience, his colleagues, and his surroundings, and includes reflections on how the job taught him about American mores and norms. Though Singh was doing minimum-wage work, his book is not a story of poverty, but rather an account of the daily grind of America's service workers through the lens of an immigrant with an MBA.
Singh is now a journalist again (and he's written for The Atlantic). I recently spoke with him about why he wrote How May I Help You?, what he gained from the experience, and the skills it takes to sell things in America. A lightly edited transcript of our conversation follows.
Source: The Atlantic
more