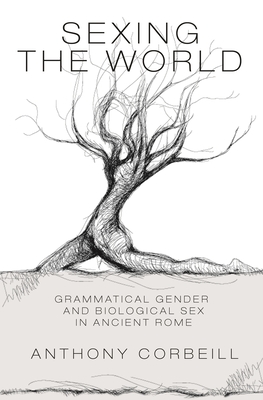 Princeton University Press
Sexing the World: Grammatical Gender and Biological Sex in Ancient Rome
0

Rate this book

Key Metrics
Princeton University Press

Paperback

9780691202310

9.2 X 6.2 X 0.5 inches

0.8 pounds

History > Ancient - Rome

English
$0
Estimated Arrival:
Dec 7 -Dec 9
Available Copies:
10+ Copies

Secure Transaction
Book Description
From the moment a child in ancient Rome began to speak Latin, the surrounding world became populated with objects possessing grammatical gender--masculine eyes (oculi), feminine trees (arbores), neuter bodies (corpora). Sexing the World surveys the many ways in which grammatical gender enabled Latin speakers to organize aspects of their society into sexual categories, and how this identification of grammatical gender with biological sex affected Roman perceptions of Latin poetry, divine power, and the human hermaphrodite.
Beginning with the ancient grammarians, Anthony Corbeill examines how these scholars used the gender of nouns to identify the sex of the object being signified, regardless of whether that object was animate or inanimate. This informed the Roman poets who, for a time, changed at whim the grammatical gender for words as seemingly lifeless as dust (pulvis) or tree bark (cortex). Corbeill then applies the idea of fluid grammatical gender to the basic tenets of Roman religion and state politics. He looks at how the ancients tended to construct Rome's earliest divinities as related male and female pairs, a tendency that waned in later periods. An analogous change characterized the dual-sexed hermaphrodite, whose sacred and political significance declined as the republican government became an autocracy. Throughout, Corbeill shows that the fluid boundaries of sex and gender became increasingly fixed into opposing and exclusive categories.
Sexing the World contributes to our understanding of the power of language to shape human perception.
Sexing the World: Grammatical Gender and Biological Sex in Ancient Rome
Author Bio
Basil L. Gildersleeve Professor of Classics and Director of Undergraduate Studies. His research focuses in particular on Roman sexuality, education, and rhetoric. He is the author of Controlling Laughter: Political Humor in the Late Roman Republic (Princeton, 1996); Nature Embodied: Gesture in Ancient Rome (Princeton, 2004); and Sexing the World: Grammatical Gender and Biological Sex in Ancient Rome (Princeton, 2015), which received a 2016 Charles J. 
Goodwin Award of Merit from the Society for Classical Studies. He is currently co-authoring a commentary on Cicero's De Haruspicum Responsis with Andrew Riggsby (University of Texas at Austin).
Research Interests
My research focuses on the cultural history of ancient Rome, a topic that I normally approach by beginning with a close examination of language and grammar. I
 have published books on Roman humor and gesture, as well as on the significance of grammatical gender for ancient Latin grammarians and poets, and for an understanding of Roman religion. 
I have also published on Roman literature and ancient sex / gender, and am currently writing a full-scale commentary on Cicero's oration De haruspicum responsis with Andrew Riggsby (University of Texas, Austin).
Source: University of Virginia 
more
Videos