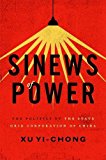 Sinews of Power: The Politics of the State Grid Corporation of China
Interview with Yi-Chong Xu
January 18, 2017
Sign Up. Full interview.
About Yi-Chong Xu
Xu Yi-chong is a professor in the Centre for Governance and Public Policy and the School of Government and International Relations at Griffith University, Australia. Her research expertise is in the areas of energy security; international organisations; nuclear policy in China and elsewhere. She has a PhD from the University of Alberta, Canada.
Xu Yi-chong is the author of The Sinews of Power (2017, OUP), The Politics of Nuclear Energy in China (2010); Electricity Reform in China, India and Russia (2004); Powering China (2002); co-author of The Working World of International Organisations (with P. Weller, forthcoming, OUP); Inside the World Bank (with P. Weller 2009) and The Governance of World Trade, (with P. Weller 2004); and editor of The Politics of International Organisations (with P. Weller 2015), The Political Economy of State-owned Enterprises in China and India (2012) and Nuclear Energy Development in Asia (2011) and co-editor (with G. Bahgat) The Political Economy of Sovereign Wealth Funds (2010). All the projects were supported by research grants from the Social Sciences and Humanities Research Council of Canada and Australian Research Council (ARC).
Interview Summary
Electricity is one of the most basic advances of modern times that we tend to take for granted. Yet, producing and distributing electricity is capital intensive and demands a fine blend of engineering skills and business savvy.
State Grid Corporation of China, although government owned and controlled, has succeeded in rising above the petty politics, not only to achieve domination in China but also to become the second largest corporation in the world, close behind Wal-Mart Stores, Inc. SGCC has emerged as the world's largest utility company in less than 10 years after its restructuring in 2002.
In an interview with Readara, Professor Xu Yi-Chong, author of Sinews of Power: The Politics of the State Grid Corporation of China, discusses how SGCC took the opportunity to grow and build an organization, overcoming political, market, and technological hurdles along the way.
Key Topics
How did State Grid Corporation of China manage to dominate electricity distribution in China?
What are the policies of SGCC and how does it manage its relationship with China's government?
What were the key steps that shaped the transformation of SGCC from a loss-making government controlled utility company to a global player today?
What kind of policy entrepreneur is SGCC?
How has SGCC led the development of technology to be in a position to dictate worldwide standards?
What are the long-term issues linked to SGCC's ultra-high-voltage transmission grids?
How has electricity restructuring affected SGCC's behavior?
How has the ownership of SGCC reshaped the company's interactions and relationships with the Chinese government?
How are a handful of elite state-owned enterprises redefining relationships between the state, corporations and society, as well as markets around the world?
Other Books by Author