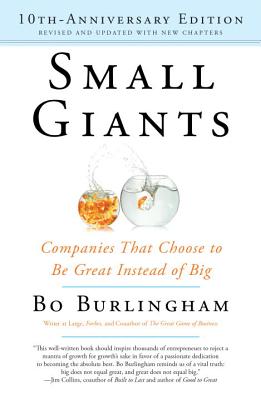 Portfolio
Small Giants: Companies That Choose to Be Great Instead of Big
0

Rate this book

Key Metrics
Portfolio

Paperback

9780143109600

8.1 X 5.4 X 0.9 inches

0.55 pounds

Business & Economics > Small Business - General

English
$0
Available Copies:
0 Copies

Secure Transaction
Book Description
How maverick companies have passed up the growth treadmill -- and focused on greatness instead.
It's an axiom of business that great companies grow their revenues and profits year after year. Yet quietly, under the radar, a small number of companies have rejected the pressure of endless growth to focus on more satisfying business goals. Goals like being great at what they do, creating a great place to work, providing great customer service, making great contributions to their communities, and finding great ways to lead their lives.
In Small Giants, veteran journalist Bo Burlingham takes us deep inside fourteen remarkable companies that have chosen to march to their own drummer. They include Anchor Brewing, the original microbrewer; CitiStorage Inc., the premier independent records-storage business; Clif Bar & Co., maker of organic energy bars and other nutrition foods; Righteous Babe Records, the record company founded by singer-songwriter Ani DiFranco; Union Square Hospitality Group, the company of restaurateur Danny Meyer; and Zingerman's Community of Businesses, including the world-famous Zingerman's Deli of Ann Arbor.
Burlingham shows how the leaders of these small giants recognized the full range of choices they had about the type of company they could create. And he shows how we can all benefit by questioning the usual definitions of business success. In his new afterward, Burlingham reflects on the similarities and learning lessons from the small giants he covers in the book.
Small Giants: Companies That Choose to Be Great Instead of Big
Author Bio
Bo Burlingham is an editor-at-large of Inc. magazine and the author of five books,the most recent being Finish Big: How Great Entrepreneurs Exit Their Companies on Top (Portfolio/Penguin, 2014). A previous book, Small Giants: Companies That Choose To Be Great Instead of Big (Portfolio/Penguin, 2006), was one of five finalists for the 2006 Financial Times/Goldman Sachs Business Book of the Year award.
Burlingham joined Inc. in January 1983 as a senior editor and became executive editor six months later. As executive editor, he was involved in much of the magazine's early coverage of innovative companies that have since emerged as leaders of the so-called New Economy. In 1990, he resigned that position so that he could do more writing and assumed the title of editor-at-large. Subsequently he wrote two books with Jack Stack, the co-founder and CEO of SRC Holdings Corp. (formerly, Springfield Remanufacturing Corp.) and the pioneer of open-book management. One of the books, The Great Game of Business (Doubleday/Currency, 1992), introduced the concept of open-book management, has sold more than 300,000 copies, and was named one of "the 100 best business books of all time." The other, A Stake in the Outcome (Doubleday/Currency, 2002), recounted how SRC built its culture of ownership while developing the business model that has allowed it to grow from $16 million to $600 million in revenue as of this writing.
Burlingham also co-authors with Norm Brodsky the popular column in Inc. called "Street Smarts," which was the winner of a gold Azbee award from the American Society of Business Publication Editors in 2008, and a finalist for a National Magazine Award in 2006 and 2008. He and Brodsky also wrote The Knack: How Street-Smart Entrepreneurs Learn to Handle Whatever Comes Up (Portfolio/Penguin, 2008). (When the book was reissued in paperback a year later, the title was changed to Street Smarts: An All-Purpose Tool Kit for Entrepreneurs.)
A former Fulbright Scholar and a Woodrow Wilson Fellow, Burlingham graduated from Princeton University in 1967 with a B.A. in public and international affairs. He subsequently served as managing editor of Ramparts magazine, contributing editor of New Times magazine, and a member of the editorial board of Working Papers, and wrote for numerous publications, including Harper's, Esquire, Mother Jones, The Boston Globe, and Boston magazine.
In the early 1980s, he joined Fidelity Investments, the mutual fund company, where he worked with fund managers and top executives, including Peter Lynch. Burlingham was a founding member, with Tom Peters, of PAC/World, an international organization of business leaders and observers. He served on the board of The Body Shop Inc., the U.S. subsidiary of the international skin and hair care company, from 1992 to 1997.
Bo and his wife, Lisa, have been married for 44 years and live in Oakland, California, and Sancerre, France. They have two children and four grandchildren.
Source: boburlingham.com
more
Videos