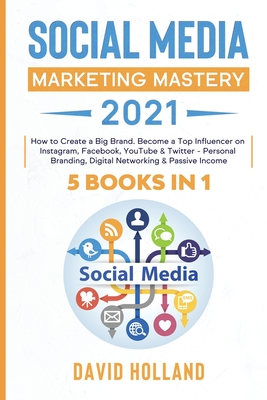 Amplitudo Ltd
Social Media Marketing Mastery 2021: 5 BOOKS IN 1. How to Create a Big Brand. Become a Top Influencer on Instagram, Facebook, YouTube & Twitter - Personal Branding, Digital Networking & Passive Income
0

Rate this book

Key Metrics
Amplitudo Ltd

Paperback

9781801141284

9 X 6 X 1.07 inches

1.54 pounds

Business & Economics > Franchises

English
$0
Available Copies:
0 Copies

Secure Transaction
Book Description
Are you interested in knowing how you can become a world-class digital marketer in 2021 and attract high-value clients to your brand while keeping them for good without struggling?
Do you want to know how an ordinary person like you can master social media marketing, become a top influencer, and create a brand that reflects their business values in 2021?
Social Media Marketing Mastery 2021 is a 5-in-1 detailed guide created to give you an in-depth view of how you can use social media to reach more paying customers and grow your business exponentially even if you have no digital marketing experience. This bundle of 5 books reveals how ordinary people and business owners from all walks of life can build their online brands from scratch, become influencers across various social media platforms, and boost their sales.
The relevance of social media in today's business world cannot be overemphasized. Whether you're a dentist, author, musician, doctor, or business owner, you can use social media marketing to connect with millions of potential customers, build your brand, and grow your leads. However, a lot of people dive into it without the right skills and end up wasting their money. That is where this book comes in to help.
Inside this detailed step-by-step playbook, you'll discover powerful tips and tricks to master the world of social media regardless of your goals or interests. You will learn how to increase your touch-points with your audience, and drive more customers to your business using Instagram, Facebook, YouTube, and Twitter.
This Boxset Includes:
Facebook Marketing 2021: For Beginners. The ultimate guide to grow your business in 2021 with new strategies and Become an expert about Advertising. Bonus: Influencer Strategy. The Real Strategy That No One Will Ever Tell You
Instagram Marketing 2021: For Beginners. Become an Influencer with Millions Real Followers. Learn How to Advertise and Discover The Secrets Behind Instagram's Algorithm
Youtube Marketing 2021: For Beginners. New Advanced Strategies to Get Views, Subscribers and How to Become a Real influencer With a Step by Step Process
Personal Branding Secrets: For Beginners. Winning Strategies to Create a Money Machine With Your Brand and Become a Top Player About Digital Networking
Passive Income 2021: For Beginners. Learn Strategies and Psychology to Earn Money With Social Media in 2021 and Beyond With a Step by Step Process
✓ The most comprehensive Guide to Social Media. Following this information step by step has allowed many people to easily reach goals like $10,000 a month, and more.
Here's another preview of what you will discover inside this bundle:
How to ramp up awareness and drive sales to your business using Facebook, Twitter, Instagram and YouTube
The secrets of gaining a constant flow of customers online without spending thousands of dollars on advertising
How to become an Instagram influencer even if you have no experience
Tips and strategies for building a brand and outshining your competitors digitally
Emerging passive income streams and trends only a few millionaires know about
And much more


Whether you're an aspiring entrepreneur that is confused about social media marketing or an experienced business owner that tried Facebook Ads in the past and failed, this book can be a powerful tool for you to untangle the mystery of social media marketing and grow your business rapidly.
Scroll up and click the Buy Now button to get this entire book bundle right now!
Social Media Marketing Mastery 2021: 5 BOOKS IN 1. How to Create a Big Brand. Become a Top Influencer on Instagram, Facebook, YouTube & Twitter - Personal Branding, Digital Networking & Passive Income