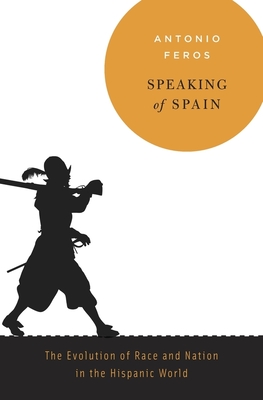 Harvard University Press
Speaking of Spain: The Evolution of Race and Nation in the Hispanic World
0

Rate this book

Key Metrics
Harvard University Press

Hardcover

9780674045514

9.4 X 6 X 1.4 inches

1.55 pounds

History > Europe - Spain & Portugal

English
$0
Estimated Arrival:
Aug 11 -Aug 15
Available Copies:
10+ Copies

Secure Transaction
Book Description
Momentous changes swept Spain in the fifteenth century. A royal marriage united Castile and Aragon, its two largest kingdoms. The last Muslim emirate on the Iberian Peninsula fell to Spanish Catholic armies. And conquests in the Americas were turning Spain into a great empire. Yet few in this period of flourishing Spanish power could define Spain concretely, or say with any confidence who were Spaniards and who were not. Speaking of Spain offers an analysis of the cultural and political forces that transformed Spain's diverse peoples and polities into a unified nation.
Antonio Feros traces evolving ideas of Spanish nationhood and Spanishness in the discourses of educated elites, who debated whether the union of Spain's kingdoms created a single fatherland (patria) or whether Spain remained a dynastic monarchy comprised of separate nations. If a unified Spain was emerging, was it a pluralistic nation, or did Spain represent the imposition of the dominant Castilian culture over the rest? The presence of large communities of individuals with Muslim and Jewish ancestors and the colonization of the New World brought issues of race to the fore as well. A nascent civic concept of Spanish identity clashed with a racialist understanding that Spaniards were necessarily of pure blood and white, unlike converted Jews and Muslims, Amerindians, and Africans.
Gradually Spaniards settled the most intractable of these disputes. By the time the liberal Constitution of C diz (1812) was ratified, consensus held that almost all people born in Spain's territories, whatever their ethnicity, were Spanish.
Speaking of Spain: The Evolution of Race and Nation in the Hispanic World
Author Bio
Antonio Feros teaches and writes about politics, culture and ethnic relations in the early modern Spanish empire, and Spanish intellectual and modern history. He has published several articles on the history of the reigns of Philip II (1556-1598), Philip III (1598-1621), and Philip IV (1621-1665); ideas and images of kingship in seventeenth-century Spanish drama and painting; political and court cultures in early modern Europe; and the historiography on the Spanish conquest and colonization of America. He is the author of Kingship and Favoritism in the Spain of Philip III, 1598-1621, (Cambridge University Press, 2000), which has been translated into Spanish, El Duque de Lerma: realeza y privanza en la España de Felipe III (Marcial Pons, 2002).
His last book, Speaking of Spain: The Evolution of Race and Nation in the Hispanic World (Harvard University Press, 2017), which analyzes the long-term debate and struggles over race and nation in Spain and the Spanish world, tracing them from the late 15th century to the early 19th century. It has been translated into Spanish under the title,  Antes de España. Nación y raza en el mundo hispánico, 1450-1820) (Marcial Pons, 2019). In collaboration with Professors Pedro Cardim (Universidade Nova de Lisboa), and Fernando Bouza (Universidad Complutense), Antonio Feros recently published The Iberian World, 1450-1820 (Routledge, 2019)
Antonio Feros is currently developing a project on the history of Spain under Dictator General Franco, provisionally entitled Post-war and reconstruction in Spain, 1939-1969.
Antonio Feros offers a variety of undergraduate and graduate courses all of which focus on the complexity of societies in contrast to a deterministic vision of historical evolution. His courses emphasize the need to pay attention to ideological diversity in each society and period and the need to analyze past societies from a cross-cultural perspective. The themes addressed in his courses are: early modern Spanish and European political, cultural, religious and intellectual history; modern Spain; and the history of early modern European imperialism.
Source: University of Pennsylvania College of Arts & Sciences 
more