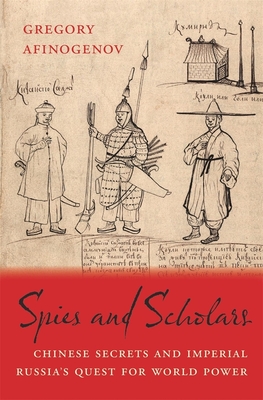 Belknap Press
Spies and Scholars: Chinese Secrets and Imperial Russia's Quest for World Power
0

Rate this book

Key Metrics
Belknap Press

Hardcover

9780674241855

9.3 X 6.5 X 1.3 inches

1.65 pounds

History > Asia - China

English
$0
Available Copies:
0 Copies

Secure Transaction
Book Description
A Financial Times Best Book of the Year
The untold story of how Russian espionage in imperial China shaped the emergence of the Russian Empire as a global power.
From the seventeenth to the nineteenth century, the Russian Empire made concerted efforts to collect information about China. It bribed Chinese porcelain-makers to give up trade secrets, sent Buddhist monks to Mongolia on intelligence-gathering missions, and trained students at its Orthodox mission in Beijing to spy on their hosts. From diplomatic offices to guard posts on the Chinese frontier, Russians were producing knowledge everywhere, not only at elite institutions like the Academy of Sciences in St. Petersburg. But that information was secret, not destined for wide circulation.
Gregory Afinogenov distinguishes between the kinds of knowledge Russia sought over the years and argues that they changed with the shifting aims of the state and its perceived place in the world. In the seventeenth century, Russian bureaucrats were focused on China and the forbidding Siberian frontier. They relied more on spies, including Jesuit scholars stationed in China. In the early nineteenth century, the geopolitical challenge shifted to Europe: rivalry with Britain drove the Russians to stake their prestige on public-facing intellectual work, and knowledge of the East was embedded in the academy. None of these institutional configurations was especially effective in delivering strategic or commercial advantages. But various knowledge regimes did have their consequences. Knowledge filtered through Russian espionage and publication found its way to Europe, informing the encounter between China and Western empires.
Based on extensive archival research in Russia and beyond, Spies and Scholars breaks down long-accepted assumptions about the connection between knowledge regimes and imperial power and excavates an intellectual legacy largely neglected by historians.
Spies and Scholars: Chinese Secrets and Imperial Russia's Quest for World Power
Author Bio
Greg Afinogenov is an assistant professor in the Department of History. He received his PhD in Russian history from Harvard University and his BA in history and philosophy from Fordham; at Georgetown, he looks forward to teaching courses on Imperial Russian history and beyond. 
His first book, Spies and Scholars: Chinese Secrets and Imperial Russia's Quest for World Power (Harvard University Press, 2020) looks at the construction of a Russian intelligence network in Qing Dynasty China between 1650 and 1850 and the global ramifications of imperial knowledge-making. More broadly, Afinogenov's research has included everything from cybernetics in the Soviet Union to pastoral poetry in eighteenth-century New York. In addition to academic publications, his articles and reviews have appeared in venues like n+1, Jacobin, and the London Review of Books.
Source: Georgetown University 
more