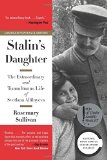 Stalin's Daughter: The Extraordinary and Tumultuous Life of Svetlana Alliluyeva
Book Summary
What may have been a privileged life for others turned into an ever-ending struggle for Svetlana Alliluyeva. Behind the high Kremlin walls or on the streets of New Delhi, Joseph Stalin's daughter had one mission – to shake off her father's legacy and find her true self. Followed by the powerful presence of one of history's most complex personalities, she considered herself a "political prisoner" even when she defected to the United States in 1967.
Canadian poet and biographer Rosemary Sullivan offers an intimate portrait of a sensitive, quintessentially Russian woman who longed to find peace in her 85 year-long life.
Key Topics
What kind of father was Joseph Stalin?
What were the living conditions in the Soviet Union in the 1930s through the 1960s?
Why did Svetlana Alliluyeva decide to defect at the height of the Cold War?
How did she adjust to living in the U.S.?
How did Svetlana deal with her father's legacy?
Other Books by Author