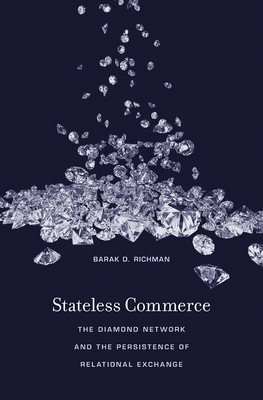 Harvard University Press
Stateless Commerce
0

Rate this book

Key Metrics
Harvard University Press

Hardcover

9780674972179

9.5 X 6.4 X 0.9 inches

1.1 pounds

Business & Economics > Commerce

English
$0
Estimated Arrival:
Oct 4 -Oct 6
Available Copies:
10+ Copies

Secure Transaction
Book Description
In Stateless Commerce, Barak Richman uses the colorful case study of the diamond industry to explore how ethnic trading networks operate and why they persist in the twenty-first century. How, for example, does the 47th Street diamond district in midtown Manhattan--surrounded by skyscrapers and sophisticated financial institutions--continue to thrive as an ethnic marketplace that operates like a traditional bazaar? Conventional models of economic and technological progress suggest that such primitive commercial networks would be displaced by new trading paradigms, yet in the heart of New York City the old world persists. Richman's explanation is deceptively simple. Far from being an anachronism, 47th Street's ethnic enclave is an adaptive response to the unique pressures of the diamond industry.
Ethnic trading networks survive because they better fulfill many functions usually performed by state institutions. While the modern world rests heavily on lawyers, courts, and state coercion, ethnic merchants regularly sell goods and services by relying solely on familiarity, trust, and community enforcement--what economists call relational exchange. These commercial networks insulate themselves from the outside world because the outside world cannot provide those assurances.
Extending the framework of transactional cost and organizational economics, Stateless Commerce draws on rare insider interviews to explain why personal exchange succeeds, even as most global trade succumbs to the forces of modernization, and what it reveals about the limitations of the modern state in governing the economy.
Stateless Commerce
Author Bio
Barak Richman's primary research interests include the economics of contracting, new institutional economics, antitrust, and healthcare policy. His work has been published in the Columbia Law Review, the University of Pennsylvania Law Review, Law and Social Inquiry, the New England Journal of Medicine, the Journal of the American Medical Association, and Health Affairs.  In 2006, he co-edited with Clark Havighurst a symposium volume of Law and Contemporary Problems entitled "Who Pays? Who Benefits? Distributional Issues in Health Care," and his book Stateless Commerce was published by Harvard University Press in 2017.
Richman represented the NFL Coaches Association in an amicus curiae brief in American Needle v. The Nat'l Football League, which was argued before the U.S. Supreme Court in January 2010 and again in Brady v. The Nat'l Football League in 2011.  His recent work challenging illegal practices by Rabbinical Associations was featured in the New York Times. His work is available at http://ssrn.com/author=334149.
Richman also is on the Health Sector Management faculty at Duke's Fuqua School of Business and is a Senior Fellow at the Kenan Institute for Ethics. He won Duke Law School's Blueprint Award in 2005 and was named Teacher of the Year in 2010.
Richman has an A.B., magna cum laude, from Brown University, a J.D., magna cum laude, from Harvard Law School, and a PhD from the University of California, Berkeley, where he studied under Nobel Laureate in Economics Oliver Williamson. He served as a law clerk to Judge Bruce M. Selya of the United States Court of Appeals for the First Circuit, and from 1994-1996 he handled international trade legislation as a staff member of the United States Senate Committee on Finance, then chaired by Senator Daniel Patrick Moynihan.
Source: Duke University 
more
Videos