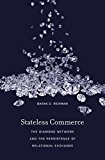 Stateless Commerce: The Diamond Network and the Persistence of Relational Exchange
Book Summary
Most industries have evolved from the reliance on ethnic trading networks that once dominated, including grain, cotton and gold marketplaces. However, in the diamond and gem industries these networks continue to dominate and thrive to date.
Once the domain of a handful of Jewish families in Tel Aviv, New York City, Antwerp and London, diamond trading is increasingly challenged by two communities based in Gujarat, India. Palanpuri and Kathiawadi communities have taken the lion share of these industries, and virtually every diamond sold in the U.S. has passed through Surat or Mumbai in India.
In Stateless Commerce, author and professor Barak D. Richman explores how ethnic trading networks function as well as why they still persist in the diamond industry. Professor Richman reviews the evolution of diamond trading networks in the last three decades, offering insights based on field work on three continents. The book sheds light on how these networks fulfil the role that traditional contracts and court system have failed to play when it comes to governance and enforcing the terms of deals. 
Key Topics
What is the value creation process in the diamond industry?
What are ethnic trading networks and how do they operate?
How does ethnic trading force governance?
Why do ethnic trading networks inspire and rely on community-based pressure?
Why have ethnic trading networks persisted in the diamond trade?
Why does the diamond industry need so much credit between distributors?
Are ethnic trading networks lawless, credit pyramids, or stateless global networks?
What is the reason that stateless commerce based on ethnic trading does not work in other industries?
How do cartels still dominate the diamond industry?
How is diamond distribution and trading likely to evolve with the entrance of Palanpuri and Kathiawadi communities from Gujarat, India?
Other Books by Author