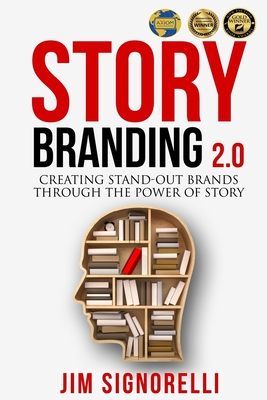 Story-Lab Publishing
StoryBranding 2.0: Creating Stand-Out Brands Through The Power of Story
0

Rate this book

Key Metrics
Story-Lab Publishing

Paperback

9780692926376

8.9 X 5.9 X 0.7 inches

0.75 pounds

Business & Economics > Marketing - General

English
$0
Available Copies:
0 Copies

Secure Transaction
Book Description
From Library Journal:
Advertising executive Signorelli was tired of the traditional approach to his craft, which he feels resulted in soulless hyperbole and mindless drivel.
When preparing for a client meeting, he had an epiphany. Rather than doing a traditional brief for the client, identifying its brand's unique selling proposition, he wrote a story: a first-person narrative told from the prospective customer's point of view. Customers have problems they want to be solved, and their stories provide clues to understanding how the brand can solve them. Signorelli compares the StoryBranding process, which helps brands understand themselves, to the way stories teach us about the people in them.
VERDICT Since advertising is, among other things, about building and nurturing relationships between the brand and the customer, the timeless tradition of storytelling is a natural approach to facilitate the process.
Signorelli skillfully coaches his readers through understanding a brand's core values and aligning them to customers' needs. While branding and advertising books are a dime a dozen, the author's original approach and competent storytelling skills serve his topic well. -Carol Elsen, (c) Copyright 2012. Library Journals LLC,
All marketers should read Jim's book, especially those who haven't embraced storytelling. It not only drives home the efficacy of storytelling but also offers a roadmap for leveraging this tool to uniquely communicate the human essence of a brand. Thought provoking and useful book.--Dennis Dunlap, Former CEO, American Marketing Association
Many books talk about the power of storytelling as a persuasion device, but this is not one of them. Jim believes it's more important to become a story than to tell one. And he shows how it can be done for all brands, big or small, for any product or service.StoryBranding 2.0StoryBranding is applicable to personal branding as well. If you have a birth certificate, you are a brand, he says. An easy, entertaining, and educational read, this revolutionary book on branding has been called a must read by critics and marketers across the globe. (Gold Medal Non-Fiction Award from Stephanie Chandler, who heads the Non-Fiction Writers Association.
StoryBranding 2.0: Creating Stand-Out Brands Through The Power of Story