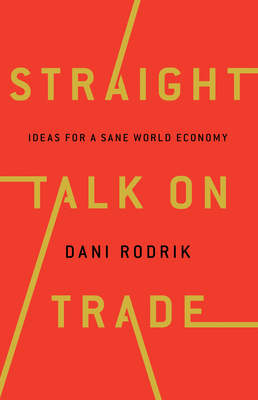 Princeton University Press
Straight Talk on Trade: Ideas for a Sane World Economy
0

Rate this book

Key Metrics
Princeton University Press

Hardcover

9780691177847

9.3 X 6.4 X 1.3 inches

1.4 pounds

Political Science > International Relations - Trade & Tariffs

English
$0
Estimated Arrival:
Jun 12 -Jun 14
Available Copies:
10+ Copies

Secure Transaction
Book Description
An honest discussion of free trade and how nations can sensibly chart a path forward in today's global economy
Not so long ago the nation-state seemed to be on its deathbed, condemned to irrelevance by the forces of globalization and technology. Now it is back with a vengeance, propelled by a groundswell of populists around the world. In Straight Talk on Trade, Dani Rodrik, an early and outspoken critic of economic globalization taken too far, goes beyond the populist backlash and offers a more reasoned explanation for why our elites' and technocrats' obsession with hyper-globalization made it more difficult for nations to achieve legitimate economic and social objectives at home: economic prosperity, financial stability, and equity.
Rodrik takes globalization's cheerleaders to task, not for emphasizing economics over other values, but for practicing bad economics and ignoring the discipline's own nuances that should have called for caution. He makes a case for a pluralist world economy where nation-states retain sufficient autonomy to fashion their own social contracts and develop economic strategies tailored to their needs. Rather than calling for closed borders or defending protectionists, Rodrik shows how we can restore a sensible balance between national and global governance. Ranging over the recent experiences of advanced countries, the eurozone, and developing nations, Rodrik charts a way forward with new ideas about how to reconcile today's inequitable economic and technological trends with liberal democracy and social inclusion.
Deftly navigating the tensions among globalization, national sovereignty, and democracy, Straight Talk on Trade presents an indispensable commentary on today's world economy and its dilemmas, and offers a visionary framework at a critical time when we need it most.
Straight Talk on Trade: Ideas for a Sane World Economy
Author Bio
Dani Rodrik is the Ford Foundation Professor of International Political Economy at Harvard's John F. Kennedy School of Government. He rejoined the Kennedy School in July 2015 after two years at the Institute for Advanced Study as the Albert O. Hirschman Professor in the School of Social Science. He is a co-director of the Economics for Inclusive Prosperity (EfIP) network and president of the International Economic Association. He is affiliated with the National Bureau of Economic Research and the Centre for Economic Policy Research (London) among other research organizations.
Professor Rodrik's research focuses on globalization, economic growth and development, and political economy. He is the recipient of numerous awards, including the inaugural Albert O. Hirschman Prize of the Social Science Research Council and the Princess of Asturias Award for Social Sciences. He was included in Prospect magazine's World's Top 50 Thinkers list (2019) and in Politico magazine's 50 list (2017). His work has been profiled in The Harvard Magazine, Finance & Development, Harvard Kennedy School Magazine, The Chronicle of Higher Education, and the New York Times.
Professor Rodrik is the author of Straight Talk on Trade: Ideas for a Sane World Economy (2017). The book was awarded the George S. Eccles Prize for Excellence in Economic Writing by the Columbia Business School in 2019. He is also the author of Economics Rules: The Rights and Wrongs of the Dismal Science (2015) and The Globalization Paradox: Democracy and the Future of the World Economy (2011). His articles have been published in the American Economic Review, Quarterly Journal of Economics, Journal of Political Economy, Economic Journal, Journal of Economic Growth, Journal of International Economics, Journal of Development Economics, and other academic journals.
His previous books include One Economics, Many Recipes: Globalization, Institutions, and Economic Growth (2007), The New Global Economy and Developing Countries: Making Openness Work (1999), and Has Globalization Gone Too Far? (1997). Professor Rodrik's monthly columns on global affairs are published by Project Syndicate.
Professor Rodrik holds a Ph.D. in economics and an MPA from Princeton University, and an A.B. from Harvard College.
Source: Harvard University 
more