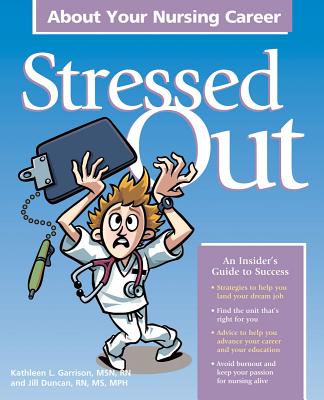 Hcpro, a Division of Blr
Stressed Out about Your Nursing Career
0

Rate this book

Key Metrics
Hcpro, a Division of Blr

Paperback

9781601462794

9 X 7.4 X 0.5 inches

0.7 pounds

Medical > Nursing - General

English
$0
Available Copies:
0 Copies

Secure Transaction
Book Description
Stressed Out About Your Nursing Career
Jill Duncan, RN, MS, MPH; Kathleen L. Garrison, MSN, RN
You've just set sail on your nursing voyage. Don't get lost--or stressed--as you search for the perfect career destination.
Get insider information to help you succeed on your journey with Stressed Out About Your Nursing Career. This book will help you choose the nursing career path that's right for you and show you how to handle the unexpected bumps and detours along the way. From finding that first job and fitting in to becoming a preceptor, a charge nurse, a manager, or a professor, Stressed Out About Your Nursing Career will serve as your trusty guidebook. You'll learn how to:
Find the facility that's right for you
Shine in the specialty of your choice
Take on new roles within your organization
Maximize your potential through higher education
Avoid burnout and keep your passion for nursing alive
Take a look at the table of contentsSection 1
Chapter 1: Finding your nursing philosophy
Chapter 2: Setting sail on your voyage
Chapter 3: Getting yourself out there
Chapter 4: Making a titanic first impression
Chapter 5: Getting along with shipmates from different generations
Chapter 6: What if I'm not sure about my itinerary?
Section 2
Chapter 7: Choosing between the OB, the ER, and Peds
Chapter 8: Finding your spot on the nursing beach
Chapter 9: Earning a certification in a specialty
Chapter 10: Don't forget to pack!
Chapter 11: Ask the right questions and travel confidently
Chapter 12: Pick the destination that has everything you need
Chapter 13: Is travel nursing for me?
Chapter 14: Let's make a quick stop and explore unions
Chapter 15: Discovering ANCC Magnet Recognition Program(R) designation
Chapter 16: Desirable destinations: Teaching hospitals
Section 3
Chapter 17: Don't lose your footing on the clinical ladder!
Chapter 18: Preceptors and mentors: The lighthouses of nursing
Chapter 19: Steer the ship as a charge nurse
Chapter 20: Cast your eyes far out onto the horizon
Chapter 21: Becoming a manager, the captain of the ship
Chapter 22: Change your course: Become a professor!
Chapter 23: Keeping afloat in the sea of nursing
Section 4
Chapter 24: Take an excursion to education
Chapter 25: Okay, I'm ready! So, how do I go back to school?
Chapter 26: Taking a different path on your voyage
Chapter 27: Avoid life's icebergs and storms
Chapter 28: Leave your mark before returningto port
Stressed Out about Your Nursing Career