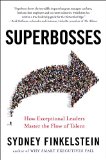 Superbosses: How Exceptional Leaders Master the Flow of Talent
Book Summary
Why are some bosses good at gaining support from their team and reaching new heights? How do they become superbosses in the process?
Sydney Finkelstein, Professor of Strategy and Leadership at the Tuck School of Business at Dartmouth College, explains how superbosses utilize the talent of their employees by helping them develop along the way to success.
The book distills years of research and consulting work with several business leaders in different industries and regions to analyze how superbosses create a culture based on a shared vision of everybody's commitment to achieving the impossible.
Key Topics
What are superbosses like and how do bosses become superbosses?
What are the characteristic behaviors of effective superbosses?
What the most efficient way of developing and retaining talent?
What motivates, inspires and enables others to achieve their full potential?
How do better bosses unleash creativity, engagement and accomplishment in their teams?
How is it possible to foster a culture of innovation, drive change, remove obstacles and encourage risk taking?
Why do superbosses win the hearts and minds of the talent they attract?
What do the three kinds of superbosses – iconoclasts, glorious bastards, nurturers – stand for?
What are the challenges and art of outsized influence?
Other Books by Author