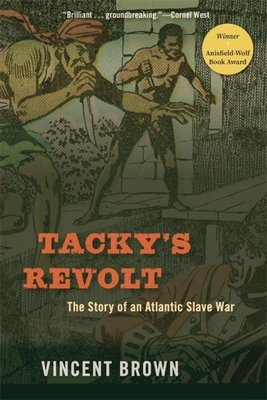 Belknap Press
Tacky's Revolt: The Story of an Atlantic Slave War
0

Rate this book

Key Metrics
Belknap Press

Paperback

9780674260290

-

-

History > Caribbean & West Indies - General

English
$0
Estimated Arrival:
Oct 5 -Oct 9
Available Copies:
5 Copies

Secure Transaction
Book Description
Winner of the Anisfield-Wolf Book Award
Winner of the James A. Rawley Prize in the History of Race Relations
Winner of the Phillis Wheatley Book Award
Finalist for the Cundill Prize
Brilliant...groundbreaking...Brown's profound analysis and revolutionary vision of the Age of Slave War--from the too-often overlooked Tacky's Revolt to the better-known Haitian Revolution--gives us an original view of the birth of modern freedom in the New World.
--Cornel West
Not only a story of the insurrection, but 'a martial geography of Atlantic slavery, ' vividly demonstrating how warfare shaped every aspect of bondage...Forty years after Tacky's defeat, new arrivals from Africa were still hearing about the daring rebels who upended the island.
--Harper's
A sobering read for contemporary audiences in countries engaged in forever wars...It is also a useful reminder that the distinction between victory and defeat, when it comes to insurgencies, is often fleeting: Tacky may have lost his battle, but the enslaved did eventually win the war.
--New Yorker
In the second half of the eighteenth century, as European imperial conflicts extended their domain, warring African factions fed their captives to the transatlantic slave trade while masters struggled to keep their restive slaves under the yoke. In this contentious atmosphere, a movement of enslaved West Africans in Jamaica organized to throw off that yoke by violence. Their uprising--which became known as Tacky's Revolt--featured a style of fighting increasingly familiar today: scattered militias opposing great powers, with fighters hard to distinguish from noncombatants. Even after it was put down, the insurgency rumbled throughout the British Empire at a time when slavery seemed the dependable bedrock of its dominion. That certitude would never be the same, nor would the views of black lives, which came to inspire both more fear and more sympathy than before.
Tracing the roots, routes, and reverberations of this event, Tacky's Revolt expands our understanding of the relationship between European, African, and American history as it speaks to our understanding of wars of terror today.
Tacky's Revolt: The Story of an Atlantic Slave War
Author Bio
Vincent Brown is Charles Warren Professor of American History and Professor of African and African American Studies.  He directs the History Design Studio and teaches courses in Atlantic history, African diaspora studies, and the history of slavery in the Americas. 
Brown is the author of The Reaper's Garden: Death and Power in the World of Atlantic Slavery (Harvard University Press, 2008), producer of Herskovits at the Heart of Blackness, an audiovisual documentary broadcast on the PBS series Independent Lens, and is most recently the author of Tacky's Revolt: The Story of an Atlantic Slave War (Belknap Press, 2020).
Education 
Duke University, PhD, History, 2002, Degree Certificate: African and African-American Studies, 2002
Dissertation: "Slavery and the Spirits of the Dead: Mortuary Politics in Jamaica, 1740-1834"
 
University of California, San Diego
BA: History, 1990
Minor: Theatrical Performance
Source: Harvard University  - Center for Government and International Studies 
more
Videos