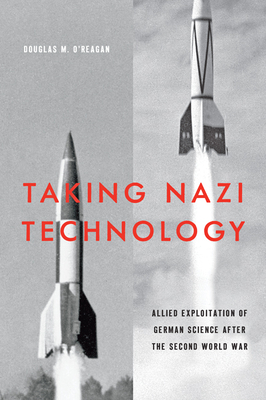 Johns Hopkins University Press
Taking Nazi Technology: Allied Exploitation of German Science After the Second World War
0

Rate this book

Key Metrics
Johns Hopkins University Press

Paperback

9781421439846

8.9 X 6 X 0.9 inches

0.9 pounds

Science > History

English
$0
Estimated Arrival:
Oct 4 -Oct 6
Available Copies:
10+ Copies

Secure Transaction
Book Description
During the Second World War, German science and technology posed a terrifying threat to the Allied nations. These advanced weapons, which included rockets, V-2 missiles, tanks, submarines, and jet airplanes, gave troubling credence to Nazi propaganda about forthcoming wonder-weapons that would turn the war decisively in favor of the Axis. After the war ended, the Allied powers raced to seize intellectual reparations from almost every field of industrial technology and academic science in occupied Germany. It was likely the largest-scale technology transfer in history.
In Taking Nazi Technology, Douglas M. O'Reagan describes how the Western Allies gathered teams of experts to scour defeated Germany, seeking industrial secrets and the technical personnel who could explain them. Swarms of investigators invaded Germany's factories and research institutions, seizing or copying all kinds of documents, from patent applications to factory production data to science journals. They questioned, hired, and sometimes even kidnapped hundreds of scientists, engineers, and other technical personnel. They studied technologies from aeronautics to audiotapes, toy making to machine tools, chemicals to carpentry equipment. They took over academic libraries, jealously competed over chemists, and schemed to deny the fruits of German invention to any other land--including that of other Allied nations.
Drawing on declassified records, O'Reagan looks at which techniques worked for these very different nations, as well as which failed--and why. Most importantly, he shows why securing this technology, how the Allies did it, and when still matters today. He also argues that these programs did far more than spread German industrial science: they forced businessmen and policymakers around the world to rethink how science and technology fit into diplomacy, business, and society itself.
Taking Nazi Technology: Allied Exploitation of German Science After the Second World War
Author Bio
I am a historian, writer, programmer, and economic consultant based in Boston, Massachusetts. As my undergraduate dual-majors in Physics (BS) and History (BA) from the University of Virginia attest, I have long been interested in both qualitative and quantiative research. My PhD in History from the University of California, Berkeley focused on the history of science and technology, and along the way I developed programming projects and quantitative research skills that advanced those skills.
As a historian, my research focuses on industrial science and technology in the context of the Cold War. I consider myself a historian of industry, technology, and national security. My first book, Taking Nazi Technology: Allied Exploitation of German Science after the Second World War (2019), is a comparative history of America, British, French, and Soviet programs to take German science and technology as a kind of "intellectual reparations" from the defeated nation. Someday I hope to write books about the histories of industrial espionage, trade secrets, and how economics, business, and law have dealt with the difficult problem of tacit knowledge, or "know-how."
As a programmer, my most recent project is The Disrespect Index, a ranking metric for college basketball teams based on how frequently they beat the spread. Several years ago I teamed up with a top management studies / economics scholar on a tool that uses patent data to illustrate the social networks of who has co-invested a patent with whom, over time: The Patent Co-Inventor Social Network Tool. I also have older, deprecated projects like FamilyGiftLister, a site for families to register and reserve gifts off of each other's Christmas lists to avoid duplication or annoying logistics.
Source: DouglasOReagan.com 
more