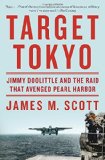 Target Tokyo: Jimmy Doolittle and the Raid That Avenged Pearl Harbor
Interview with James H. Scott
July 28, 2016
Sign Up. Full interview.
About James H. Scott
Interview Summary
In Target Tokyo James M. Scott offers a vivid account of Lt. Col. Jimmy Doolittle's raid that guided 16 planes and 80 well-trained pilots on a mission of retaliation and, more importantly, an uncompromising message to Japan's wartime regime. Doolittle led the successful raid on April 18, 1942, just four months after the attack on Pearl Harbor. It was a daring feat that healed the nation and set the stage for the ultimate defeat of Japan.
With the help of sources never accessed before in Japan, Russia and China, Scott provides compelling insights into America's first attack on Japan in World War II. 
Key Topics
What was the actual state of America's military preparedness at the time of the Pearl Harbor attack?
What were the technological and logistical challenges faced by the U.S. military strategists in planning the Doolittle raid?
Additional information on: Chiang Kai-shek, Lieutenant General Joseph "Vinegar Joe" Stilwell, and Vice Admiral William "Bull" Halsey Jr.
What was Japan's response in the wake of the Tokyo raid?
How did the conflict between Japan and the U.S. escalate after the Doolitle Raid?
How did China suffer at the hands of Japan after the successful raid on Tokyo?
Other Books by Author