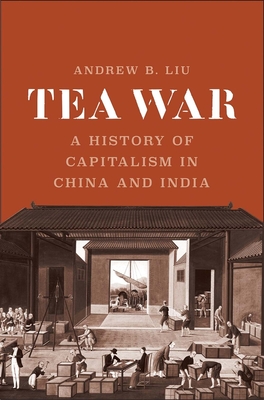 Yale University Press
Tea War: A History of Capitalism in China and India
0

Rate this book

Key Metrics
Yale University Press

Hardcover

9780300243734

9.4 X 6.5 X 1.2 inches

1.5 pounds

History > Asia - China

English
$0
Available Copies:
0 Copies

Secure Transaction
Book Description
A history of capitalism in nineteenth- and twentieth-century China and India that explores the competition between their tea industries
Tea remains the world's most popular commercial drink today, and at the turn of the twentieth century, it represented the largest export industry of both China and colonial India. In analyzing the global competition between Chinese and Indian tea, Andrew B. Liu challenges past economic histories premised on the technical divergence between the West and the Rest, arguing instead that seemingly traditional technologies and practices were central to modern capital accumulation across Asia. He shows how competitive pressures compelled Chinese merchants to adopt abstract industrial conceptions of time, while colonial planters in India pushed for labor indenture laws to support factory-style tea plantations. Characterizations of China and India as premodern backwaters, he explains, were themselves the historical result of new notions of political economy adopted by Chinese and Indian nationalists, who discovered that these abstract ideas corresponded to concrete social changes in their local surroundings. Together, these stories point toward a more flexible and globally oriented conceptualization of the history of capitalism in China and India.
Tea War: A History of Capitalism in China and India
Author Bio
I am an assistant professor in the department of history at Villanova University, about thirty minutes outside Philadelphia. My research interests include: modern China, south and east Asia, histories and theories of political economy and capitalism, and global and comparative history.
My book Tea War: A history of capitalism in China and India was published by Yale University Press in 2020 as part of the Weatherhead Studies in East Asia series with Columbia University. I relied upon archival materials found in China, India, and the UK, trying to bring together the histories of the Chinese and Indian tea industries into a global and comparative study of capitalism in the "rest" of the world. More in the book section.
Right now, I am developing a second project centered on the connections between Hong Kong and Guangdong in southern China and taking place across the 1970s and eighties. From this vantage point, I hope to rethink a series of late-twentieth century transformations involving: "reform and opening" in China, the "miracle" economies of east Asia's "flying geese" and "four tiger" societies, and, more broadly, global political economy. This period is often narrated as a story of the breakdown of Fordism from the standpoint of the north Atlantic, viz., the rise of "neoliberalism." What I am trying to figure out is: how does our view of the modern world change when we pay serious attention to events taking place at the same moment in the Asia-Pacific?
I am also a member of the Critical China Scholars collective, a group of humanists and social scientists committed to advancing solidarity amidst mounting tensions between the US and China.
For the last year I've been co-hosting a podcast called Time to Say Goodbye with journalists Jay Kang and Tammy Kim. We cover topics spanning global politics and culture, Asia, and Asian America. Here's our episode on The Dig with Daniel Denvir in April 2021.
I grew up in the Seattle suburbs and spent just over a decade in New York as a student, with time in Asia mixed in.
Source: andybliu.github.io Villanova University Liberal Arts and Sciences
more