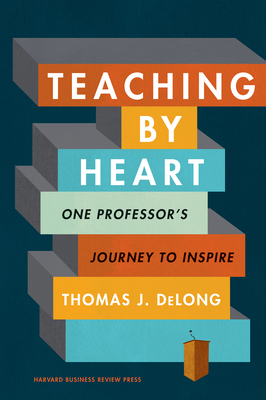 Harvard Business Review Press
Teaching by Heart: One Professor's Journey to Inspire
0

Rate this book

Key Metrics
Harvard Business Review Press

Hardcover

9781633698529

9.2 X 6.3 X 1 inches

0.95 pounds

Education > Higher

English
$0
Estimated Arrival:
Dec 8 -Dec 10
Available Copies:
10+ Copies

Secure Transaction
Book Description
The best teachers are leaders, and the best leaders are teachers.
Teaching by Heart summarizes the author's key insights gained from more than forty years of teaching and managing. It illustrates how teachers can both lift people up and let them down. It proposes that the best teachers are also leaders, and the best leaders are also teachers.
In examining how to lead and teach, renowned Harvard Business School professor Thomas J. DeLong takes the reader inside his own head and heart. He notes that, as teachers, we often focus more on our inadequacies and missteps than on our strengths and unique talents. He explains why this is so by dissecting and analyzing his own experiences--using himself as a case study.
The book's goal is to help readers learn about the intricacies of teaching and managing, and to impart lessons about how teachers can create a unique teaching atmosphere. To do this, the author analyzes the process of creating a curriculum, preparing for an eighty-minute class, managing the fifteen minutes before class begins, and evaluating the nature of the teaching experience after the session concludes.
Along the way, he connects specific classroom behaviors with leadership issues--in organizations, in teams, and in personal relationships. He also asks--and answers--some provocative questions, such as:
What happens on multiple levels when I teach or lead--with me, students, or professionals?
What am I thinking and feeling as I process what students are thinking and feeling?
How are my internal conversations affecting how I teach and lead?
How do I manage my biases, including having favorite students?
To what extent can I use teaching methods in the arena of management?
Throughout Teaching by Heart, DeLong discusses why empathy and authenticity matter. When teachers embrace this mindset, students have the opportunity to have a unique learning experience. Teachers and managers will learn how to create moments of transformation for students.
Whether you're a university professor, a student, a business leader, or just someone fascinated by teaching, this book will instruct, entertain, and--hopefully--inspire.
Teaching by Heart: One Professor's Journey to Inspire
Author Bio
Thomas J. DeLong is a Baker Foundation Professor of Management Practice and the former Philip J. Stomberg Professor of Management Practice in the Organizational Behavior Department at the Harvard Business School. He is an expert in leader development, organizational and career transformation.
His most recent book, "Flying Without a Net", was recognized by the editors of Amazon Publishing as one of the top ten books written on leadership this century. A number of his cases have been taught around the world in universities and organizations. His most notable cases are: Rob Parson at Morgan Stanley, Erik Peterson at Biometra, C&S Wholesale Grocers and the 1977 Alumni Profiles.
Before joining the Harvard Business School Faculty, DeLong was Chief Development Officer and Managing Director of Morgan Stanley Group, Inc, where he was responsible for the firm's human capital and focused on issues of organizational strategy and organizational change. At Harvard, Professor DeLong teaches MBA and executive courses focused on leadership, organizational behavior, managing human capital, and career management. DeLong has served as course head for the required course on Leadership and Organizational Behavior. He has designed MBA courses focusing on managing human capital in high performance organizations and leading professional service firms. DeLong is currently advising on the development of a course on interpersonal effectiveness for the first year MBAs.
DeLong co-authored two books focused on leadership and professional service firms, When Professionals Have to Lead: A New Model for High Performance (Harvard Business School Press, 2007) and Professional Services: Cases and Texts (McGraw-Hill/Irwin, 2003).  DeLong has coauthored two Harvard Business Review articles, "Let's Hear It for B Players" and "Why Mentoring Matters in a Hypercompetitive World."   His forthcoming book, "Teaching By Heart", focuses on the relationship between leadership and teaching as well as highlights his insights into teaching as craft and art after 45 years in the classroom.
Professor DeLong received his undergraduate and master's degrees from Brigham Young University and his Ph.D. from Purdue University in Industrial Supervision.  He received a post-doctoral fellowship from Massachusetts Institute of Technology.
Research Interests 
I'm currently studying how global organizations organize talent management systems in order to maintain and enhance the performance of professionals.  I'm also interested in the socialization process of organizations based on size and focus of the organization.  I am focusing on the individual, transformational process.
Source: Harvard Business School 
more
Videos