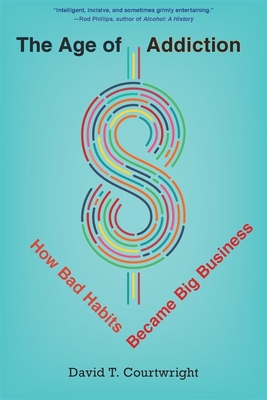 Belknap Press
The Age of Addiction: How Bad Habits Became Big Business
0

Rate this book

Key Metrics
Belknap Press

Paperback

9780674248229

8.2 X 5.5 X 1.1 inches

0.75 pounds

Psychology > Psychopathology - Addiction

English
$0
Available Copies:
0 Copies

Secure Transaction
Book Description
A fascinating history of corporate America's efforts to shape our habits and desires.
--Sean Illing, Vox
[A] compulsively readable book about bad habits becoming big business...In crisp and playful prose and with plenty of needed humor, Courtwright has written a fascinating history of what we like and why we like it, from the first taste of beer in the ancient Middle East to opioids in West Virginia.
--American Conservative
A sweeping, ambitious account of the evolution of addiction...This bold, thought-provoking synthesis will appeal to fans of 'big history' in the tradition of Guns, Germs, and Steel.
--Publishers Weekly
A mind-blowing tour de force that unwraps the myriad objects of addiction that surround us daily...This intelligent, incisive, and sometimes grimly entertaining book will become the standard work on the subject.
--Rod Phillips, author of Alcohol: A History
We live in an age of addiction, from compulsive gaming and shopping to binge eating and opioid abuse. Sugar can be as habit-forming as cocaine, researchers tell us, and social media apps are deliberately hooking our kids. But what can we do to resist temptations that insidiously rewire our brains? A renowned expert on addiction, David Courtwright reveals how global enterprises have both created and catered to our addictions. The Age of Addiction chronicles the triumph of what he calls limbic capitalism, the growing network of competitive businesses targeting the brain pathways responsible for feeling, motivation, and long-term memory.
The Age of Addiction: How Bad Habits Became Big Business
Author Bio
I have taught medical, U.S., and world history at the University of North Florida, where I am presidential professor emeritus in the Department of History. I have authored books on drug use and drug policy, both in American and world history; the special problems of frontier environments, both on the land and in the air; and, most recently, about the culture war that has roiled American politics since the 1960s. I am currently working on a book about pleasure and capitalism in the modern world.
David T. Courtwright, a graduate of the University of Kansas and Rice University, offers upper-division courses in the history of medicine and disease and American history, notably "The U.S. since World War I" and "The 1960s and Vietnam." His current graduate offerings include readings in U.S. history since 1865 and two internationally oriented research seminars, "The Long 1960s" and "Violence and the State."
Courtwright has published influential books on drug use and drug policy, both in American and world history; the social problems of frontier environments on the land and in the air; and the culture war that roiled American politics during and after the 1960s. Whether it is about drugs, violence, aerospace, or cultural politics, his research is concerned with power, policy, and social structure. His ambition is to identify what drives fundamental changes in modern social and political history. He is currently completing another project in this vein, a book about pleasure, vice, and addiction in the modern world.
Courtwright's teaching and research have been recognized by the John A. Delaney Presidential Professorship, the UNF Distinguished Professor Award, five teaching awards, the College on Problems of Drug Dependence Media Award, and fellowships from the American Historical Association, NASA, the American Council of Learned Societies, and the National Endowment for the Humanities, including a 2016-2017 NEH Public Scholar Award.
Source: University of North Florida 
more
Videos