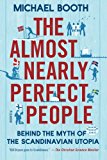 The Almost Nearly Perfect People: Behind the Myth of the Scandinavian Utopia
Interview with Michael Booth
February 13, 2017
Sign Up. Full interview.
About Michael Booth
Michael Booth is the award-winning, best-selling author of five works of non-fiction, as well as a journalist, broadcaster and speaker.
He writes predominantly about travel, food, France, Japan and the Nordic region.
His writing appears regularly in The Guardian, The Independent, Independent on Sunday, The Times, The Telegraph and Condé Nast Traveller magazine among many other publications globally. He is a correspondent for Monocle magazine and Monocle 24 Radio, and travels regularly to give talks and lectures on the Nordic lands.
Interview Summary
Societies and governments around the world are looking for ways to improve and often Scandinavian model of economic and social structure gets plenty of attention. Survey after survey do their part in keeping up the perception of "heightened bliss" in the similar but still distinct communities of Sweden, Norway, Denmark, Finland and Iceland.
Often lumped together as Scandinavian countries, these five nations have gotten many things right that some of the most advanced nations still struggle with – People trust their politicians and are willing to pay higher taxes because they believe their government generally do a good job in providing services and distributing wealth.
In an interview with Readara, author Michael Booth talks about how these five nations are similar and yet different in their own ways. Despite the inclement weather in the region, people are content and progressive culture of these societies have deep roots in Lutheranism that values equality, trust and social cohesion.
However, not all is well in the region and despite the general welfare state there are clouds on the horizon. Can public sector keep growing if population keeps ageing and how long this "bumble bee economy" can stay afloat if the productivity growths continues to remain subpar?
Key Topics
What is the Nordic Miracle and why are people in these nations generally content?
How does the structure of social harmony and social security function in these so-called classless societies?
How are the homogenous Nordic societies different from each other?
Does the Nordic miracle offer a definitive model if one wants to live a fulfilled, healthy, enlightened, well-balanced life?
If people are happy in the region, then why do so many of them struggle with alcoholism and depression?
Are Scandinavians actually happy, or do they bask in contentedness and satisfaction?
Can a citizen feel satisfaction if they end up paying some of the highest taxes in the world?
Are equal societies better than their unequal counterparts? How does equality matter?
What are the current attitudes in the Nordic region toward people from outside?
Other Books by Author