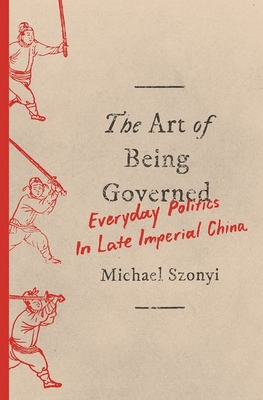 Princeton University Press
The Art of Being Governed: Everyday Politics in Late Imperial China
0

Rate this book

Key Metrics
Princeton University Press

Paperback

9780691197241

9.21 X 6.14 X 0.73 inches

1.1 pounds

History > Asia - China

English
$0
Estimated Arrival:
Oct 4 -Oct 6
Available Copies:
10+ Copies

Secure Transaction
Book Description
An innovative look at how families in Ming dynasty China negotiated military and political obligations to the state
How did ordinary people in the Ming dynasty (1368-1644) deal with the demands of the state? In The Art of Being Governed, Michael Szonyi explores the myriad ways that families fulfilled their obligations to provide a soldier to the army. The complex strategies they developed to manage their responsibilities suggest a new interpretation of an important period in China's history as well as a broader theory of politics.
Using previously untapped sources, including lineage genealogies and internal family documents, Szonyi examines how soldiers and their families living on China's southeast coast minimized the costs and maximized the benefits of meeting government demands for manpower. Families that had to provide a soldier for the army set up elaborate rules to ensure their obligation was fulfilled, and to provide incentives for the soldier not to desert his post. People in the system found ways to gain advantages for themselves and their families. For example, naval officers used the military's protection to engage in the very piracy and smuggling they were supposed to suppress. Szonyi demonstrates through firsthand accounts how subjects of the Ming state operated in a space between defiance and compliance, and how paying attention to this middle ground can help us better understand not only Ming China but also other periods and places.
Combining traditional scholarship with innovative fieldwork in the villages where descendants of Ming subjects still live, The Art of Being Governed illustrates the ways that arrangements between communities and the state hundreds of years ago have consequences and relevance for how we look at diverse cultures and societies, even today.
The Art of Being Governed: Everyday Politics in Late Imperial China
Author Bio
Michael Szonyi is Professor of Chinese History and Director of the Fairbank Center for Chinese Studies at Harvard University. He is a social historian of late imperial and modern China. His research focuses on the local history of southeast China, from the Ming dynasty to the twenty-first century, using a combination of traditional textual sources and ethnographic-style fieldwork. 
His books include The Art of Being Governed: Everyday Politics in Late Imperial China (Princeton, 2017); A Companion to Chinese History (Wiley, 2017); Practicing Kinship (Stanford, 2002) and Cold War Island: Quemoy on the Front Line (Cambridge, 2008; Chinese edition National Taiwan University Press 2016). He is also co-editor, with Jennifer Rudolph, of The China Questions: Critical Insights into a Rising Power (Harvard, 2017), a work celebrating the sixtieth anniversary of the Fairbank Center. 
Szonyi received his Bachelor of Arts from the University of Toronto and his doctorate from Oxford University, where he was a Rhodes Scholar. He has also studied at National Taiwan University and Xiamen University. Professor Szonyi taught previously at McGill University and University of Toronto, where he received tenure in 2002. Szonyi came to Harvard in 2005, and was named John L. Loeb Associate Professor of the Humanities in 2007 and Professor of Chinese History in 2009. 
He has a joint appointment in the Department of History. Szonyi has served previously as Director of Undergraduate Studies and Chair of the Committee on Regional Studies – East Asia (RSEA) AM program.
Source: Harvard University Department of East Asian Languages and Civilizations
more