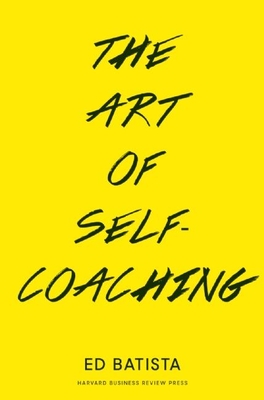 Harvard Business Review Press
The Art of Self-Coaching
0

Rate this book

Key Metrics
Harvard Business Review Press

Paperback

9781422168066

-

-

Business & Economics > Personal Success

English
$0
Available Copies:
0 Copies

Secure Transaction
Book Description
Executive coaching has grown enormously in popularity over the last twenty years, and in the process the field has shifted from serving as a corrective measure for underperformers to helping high-potentials develop fully and allowing stars to continue to up their game. The Art of Self-Coaching is not intended to replace the experience of working one-on-one with a professional coach, but rather to augment the coaching process for active clients, to serve as a resource after a coaching engagement is concluded, and to provide a structured approach to managing one's professional growth and development to the large number of people who lack the opportunity to work directly with a coach. The book starts with a set of principles and practices that comprise the process of self-coaching. It then addresses the topic through a series of chapters aimed at different aspects of personal and professional development: Beginnings, Change, Emotion, Happiness, Resilience, Vulnerability, Unhappiness, Vice, Success, and Endings. Drawing upon recent research in neuroscience, social psychology and other disciplines, The Art of Self-Coaching will help readers better understand and leverage their strengths, address their weaknesses and areas for improvement, and provide a set of tools and conceptual frameworks to guide their ongoing development as people and as professionals.
The Art of Self-Coaching
Author Bio
I'm an executive coach and a lecturer at the Stanford Graduate School of Business. At Stanford I teach courses aimed at helping MBA students better manage themselves and further develop their leadership and interpersonal skills.
Today I teach The Art of Self-Coachingopen in new window (OB527), a course that I designed and launched in 2015. The course aims to help professionals and aspiring leaders be more intentional in managing their continued growth and development. From 2017 through 2020 I taught three sections of the course each year, but in 2021 I had less time available for teaching and currently offer one section in Spring Quarter.
In 2016 and 2017 I also taught Interpersonal Dynamicsopen in new window (OB374), the school's most popular elective (and known to most students as Touchy Feely.) When I accepted the GSB's invitation to add a third section of Self-Coachingopen in new window, I decided to resign from the Interpersonal Dynamics faculty, as my other commitments precluded me from teaching more than one class per Quarter.
From 2007 to 2016 I provided individual coaching and led teams in the Arbuckle Leadership Fellows Program and taught sections of Leadership Labs, both of which I helped to launch in 2007. During that time I also facilitated groups in Interpersonal Dynamics, a role that I continued to play during the course's weekend retreats.
As an executive coach I work with senior leaders who are facing a challenge or would like to be more effective or fulfilled in their roles. Most of my clients are technology company CEOs, and I've worked with leaders in fields from accounting to investing to the law. Issues I often address with clients include managing relationships with key employees and others, improving executive team dynamics, transitioning from technical expert to leader, evolving company culture, and better self-care.
My work as a coach began after a 15-year career in management, during which I took two years off to attend the GSB and helped launch three new organizations. I write about coaching and professional development at edbatista.comopen in new window. I'm a co-author of the HBR Guides to Coaching Employeesopen in new window and Delivering Effective Feedbackopen in new window, and I'm currently writing a book on self-coaching for HBR Press.
I'm married to Amy Wright, and we live on a farm north of San Francisco. In addition to my MBA from Stanford, I earned a BA in History, magna cum laude, from Brown University.
Source: Stanford Graduate School of Business 
more
Videos