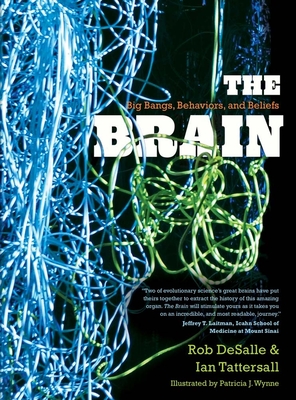 Yale University Press
The Brain: Big Bangs, Behaviors, and Beliefs
0

Rate this book

Key Metrics
Yale University Press

Paperback

9780300205725

8.64 X 6.57 X 0.94 inches

1.21 pounds

Science > Life Sciences - Evolution

English
$0
Available Copies:
0 Copies

Secure Transaction
Book Description
What evolutionary process could have resulted in the unique and amazing human brain? New research by neuroscientists, paleontologists, and others reveals startling answers.
After several million years of jostling for ecological space, only one survivor from a host of hominid species remains standing: us. Human beings are extraordinary creatures, and it is the unprecedented human brain that makes them so. In this delightfully accessible book, the authors present the first full, step-by-step account of the evolution of the brain and nervous system.
Tapping the very latest findings in evolutionary biology, neuroscience, and molecular biology, Rob DeSalle and Ian Tattersall explain how the cognitive gulf that separates us from all other living creatures could have occurred. They discuss the development and uniqueness of human consciousness, how human and nonhuman brains work, the roles of different nerve cells, the importance of memory and language in brain functions, and much more. Our brains, they conclude, are the product of a lengthy and supremely untidy history--an evolutionary process of many zigs and zags--that has accidentally resulted in a splendidly eccentric and creative product.
The Brain: Big Bangs, Behaviors, and Beliefs
Author Bio
Dr. DeSalle works in molecular systematics, microbial evolution, and genomics. His current research concerns the development of bioinformatic tools to handle large-scale genomics problems using phylogenetic systematic approaches. 
Dr. DeSalle has worked closely with colleagues from Cold Spring Harbor Labs, New York University, and the New York Botanical Garden on seed plant genomics and development of tools to establish gene family membership on a genome- wide scale. His group also focuses on microbial genomics, taxonomy, and systematics. 
In particular, they approach tree-of-life questions concerning microbial life using whole genome information. He also dabbles in Drosophila systematics.
Education
Washington University, Ph.D, 1984
University of Chicago, B.A., 1976
Source: American Museum of Natural History 
more
Videos