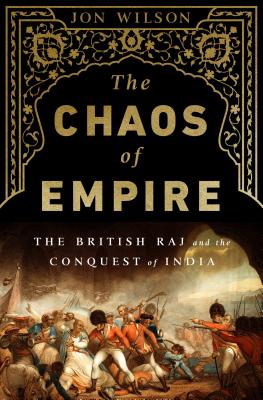 PublicAffairs
The Chaos of Empire: The British Raj and the Conquest of India
0

Rate this book

Key Metrics
PublicAffairs

Paperback

9781541767935

8.6 X 5.9 X 1.7 inches

1.3 pounds

History > Asia - India & South Asia

English
$0
Available Copies:
0 Copies

Secure Transaction
Book Description
The popular image of the British Raj-an era of efficient but officious governors, sycophantic local functionaries, doting amahs, blisteringly hot days and torrid nights-chronicled by Forster and Kipling is a glamorous, nostalgic, but entirely fictitious. In this dramatic revisionist history, Jon Wilson upends the carefully sanitized image of unity, order, and success to reveal an empire rooted far more in violence than in virtue, far more in chaos than in control.
Through the lives of administrators, soldiers, and subjects-both British and Indian-The Chaos of Empire traces Britain's imperial rule from the East India Company's first transactions in the 1600s to Indian Independence in 1947. The Raj was the most public demonstration of a state's ability to project power far from home, and its perceived success was used to justify interventions around the world in the years that followed. But the Raj's institutions-from law courts to railway lines-were designed to protect British power without benefiting the people they ruled. This self-serving and careless governance resulted in an impoverished people and a stifled society, not a glorious Indian empire.
Jon Wilson's new portrait of a much-mythologized era finally and convincingly proves that the story of benign British triumph was a carefully concocted fiction, here thoroughly and totally debunked.
The Chaos of Empire: The British Raj and the Conquest of India
Author Bio
Jon Wilson joined the department in 1999 as Lecturer in British Imperial and South Asian History. He was awarded a DPhil from Oxford University in 2000, following two years in New York studying for an MA in Anthropology at the New School for Social Research. He was Deputy Head (External Relations) of the School of Arts and Humanities from 2008-11, where he initiated the King's Arts and Humanities festival. He has also worked as a parliamentary researcher and been a local councillor.
Research Interests 
Prof Wilson's work focuses on the everyday life of the state in South Asia, Britain and beyond. His first book, The Dominance of Strangers was a study of the emergence of a modern regime in Bengal during the late eighteenth and early nineteenth centuries. His second major project was on the British conquest of India and its implications for imperial and Indian politics. India Conquered. Britain's Raj and the Chaos of Empire, published by Simon and Schuster (or Public Affairs in the USA/Canada) was published in September 2016, and was shortlisted for the Longman-History Today prize.
Prof Wilson is currently working on a multi-national history of everyday concepts of government from the 1945 to the present, tracing particularly the rise and fall of ideas of national and democratic political power after the Second World War and end of empire. The project will result in a book whose provisional title is Out of Chaos. A Global History of the Rise and Fall of the Nation State. Part of it involves quantitative textual analysis, and is part of a collaborative project with colleagues in Digital Humanities and the Turing Institute developing digital methodologies for understanding global conceptual change.
Source: King's College of London 
more
Videos