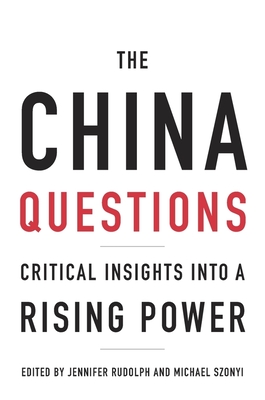 Harvard University Press
The China Questions: Critical Insights Into a Rising Power
0

Rate this book

Key Metrics
Harvard University Press

Hardcover

9780674979406

8.5 X 5.8 X 1.1 inches

1.2 pounds

Political Science > World - Asian

English
$0
Available Copies:
0 Copies

Secure Transaction
Book Description
Many books offer information about China, but few make sense of what is truly at stake. The questions addressed in this unique volume provide a window onto the challenges China faces today and the uncertainties its meteoric ascent on the global horizon has provoked.
In only a few decades, the most populous country on Earth has moved from relative isolation to center stage. Thirty-six of the world's leading China experts--all affiliates of the renowned Fairbank Center for Chinese Studies at Harvard University--answer key questions about where this new superpower is headed and what makes its people and their leaders tick. They distill a lifetime of cutting-edge scholarship into short, accessible essays about Chinese identity, culture, environment, society, history, or policy.
Can China's economic growth continue apace? Can China embrace the sacrifices required for a clean environment? Will Taiwan reunite with the mainland? How do the Chinese people understand their position in today's global marketplace? How do historical setbacks and traditional values inform China's domestic and foreign policy? Some of the essays address issues of importance to China internally, revolving around the Communist Party's legitimacy, the end of the one-child policy, and ethnic tensions. Others focus on China's relationship with other nations, particularly the United States. If America pulls back from its Asian commitments, how will China assert its growing strength in the Pacific region?
China has already captured the world's attention. The China Questions takes us behind media images and popular perceptions to provide insight on fundamental issues.
The China Questions: Critical Insights Into a Rising Power
Author Bio
Jennifer Rudolph's main area of research is modern Chinese political history.  While her first book dissects institutional change in late imperial China, in her second, she explores identity politics in the Taiwan Strait. In it, 
Rudolph explores co-optations of a 17th-century pirate-merchant Zheng Chenggong. Through the centuries, Zheng has lived on, with regimes ruling, or desirous of ruling, Taiwan portraying him as a traitor, Confucian god, Chinese nationalist, Japanese nationalist, and the Moses of Taiwan. Professor Rudolph incorporates her research into her teaching to help students recognize historical accounts as part of ongoing debates about national identity, regionalism, and politics. 
Her teaching interests are broad and include the political, social, environmental, and cultural history of China, Taiwan, Japan, and Korea. Rudolph directs WPI's China Hub and is the Director of the Hangzhou IQP Project Center. She and China Hub colleagues have received multiple grants to build a China program at WPI that includes Chinese language courses, project opportunities, a Chinese Studies Minor, and joint programs with Chinese partner institutions.
Source: Worcester Polytechnic Institute  
more