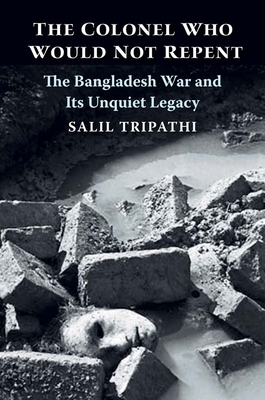 The Colonel Who Would Not Repent:The Bangladesh War and Its Unquiet Legacy
Interview with Salil Tripathi
April 29, 2016
Sign Up to listen to full interview.
About Salil Tripathi
Salil Tripathi was born in Bombay, India. He is a contributing editor at Mint and at Caravan in India. He is currently Chair, PEN Internationals Writers in Prison Committee. In the UK, he was board member of English PEN from 2009 to 2013, and with novelist Kamila Shamsie, he co-chaired English PENs Writers-at-Risk Committee. In 2015, he received the Red Ink Award from the Mumbai Press Club for human rights journalism. November 2011, he won the third prize at the Bastiat Awards for Journalism about free societies, in New York. In 1994 in Hong Kong, he received one of the awards at the Citibank Pan Asia Journalism Awards for economic journalism. He was a correspondent in India from 1987 to 1990 and moved to Singapore (and later Hong Kong) from 1991 to 1999. He moved to London in 1999. Salil has written for The Wall Street Journal, The International Herald Tribune, The Washington Post, The New York Times, The New Republic, The New Yorker, The San Francisco Chronicle, Salon, and The Philadelphia Inquirer in the United States; The Guardian, The Independent, The New Statesman, The Spectator, Prospect, and Index on Censorship in the United Kingdom; Far Eastern Economic Review in Hong Kong; Global Asia in South Korea; The National in the United Arab Emirates; Shinchosha in Japan, and a few other publications. In India, he had been assistant editor at the Indian Post and senior correspondent at India Today. He has been a senior visiting fellow for business and human rights at the Kennedy School, Harvard University, and is also an adviser to several global initiatives involving business and human rights. He studied at the New Era School in Bombay and graduated from Sydenham College at the University of Bombay. He later obtained his Masters in Business Administration from the Amos Tuck School of Business Administration at Dartmouth College in the United States. Offence: The Hindu Case, about the rise of Hindu nationalism and its implications on free expression, is his first book. His book on the Bangladesh War of Liberation, The Colonel Who Would Not Repent: The Bangladesh War and its Unquiet Legacy published by the Aleph Book Company in late 2014 for the Indian subcontinent, will be published worldwide by Yale University Press in Spring 2016. Detours: Songs of the Open Road, his collection of travel writing is published by Tranquebar in December 2015.
more
Interview Summary
more
Key Topics
Other Books by Author