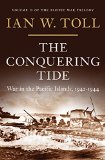 The Conquering Tide: War in the Pacific Islands, 1942-1944
Book Summary
What was originally planned to be a single book on the Pacific War soon evolved into a series of well-researched books about the conflict. The Conquering Tide is the second book in Ian W. Toll's trilogy following Pacific Crucible, with Twilight of the Gods expected to be published in 2018.
In The Conquering Tide, the award-winning author, covers the period between mid-1942 to mid-1944, offering a detailed description of the counteroffensive that shifted the balance between the U.S. and Japan in the theater of naval warfare.
With the help of new resources and more access to sources in Japan, Toll provides a panoramic view of the war both from the U.S. and Japanese standpoints, focusing on how the two governments managed public opinions back home. An independent scholar, Toll benefits from his versatile background in finance, economics and media in taking readers away from the narrow perspectives of the battles at sea to the political and diplomatic forces of strategy engineering, the social and economic aspects of the military campaign as well as its enormous impact on both sides of the Pacific. 
Key Topics
What was the significance of World War II as a test of strength between the authoritarian and democratic models of society?
How did President Roosevelt face the challenge of coordinating military planning with political decision making?
What were the U.S. military priorities in the Pacific War?
How did Admiral Ernest J King fight the battle for retaking Guadalcanal?
What level of planning and operational preparedness was necessary in the fight for Gilbert Islands and Tarawa?
Why was King convinced that the central Pacific line of advance was the route to victory compared to McArthur's route through the Philippines?
How did U.S. politicians force industrial companies to shift commercial production to war machinery?
The third volume of the trilogy will cover another year of warfare in the southwest Pacific islands and central Pacific islands of Iwo Jima and Okinawa.
Other Books by Author