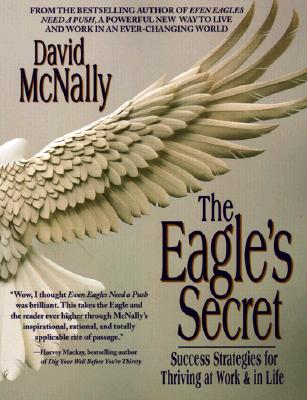 Dell
The Eagle's Secret: Success Strategies for Thriving at Work & in Life
0

Rate this book

Key Metrics
Dell

Paperback

9780440508458

8.49 X 6.51 X 0.62 inches

0.83 pounds

Business & Economics > Motivational

English
$0
Available Copies:
0 Copies

Secure Transaction
Book Description
David McNally, peak-performance consultant to businesses and author of
Even Eagles Need A Push
, returns with an inspiring and timely look at a problem faced by more and more of us. In today's dynamic global economy, the old rules for how to succeed--indeed, how to even stay employed--have been radically changed. The restructuring and re-engineering of our workplaces demanded by the new landscape of technology, international competition and communications now requires us to apply the lessons learned by organizations to our own professional and personal lives; what's needed now is a restructuring and re-engineering of ourselves.
Combining a highly readable blend of a seminar's worth of exercises, research-driven insights, and inspiring stories of ordinary people doing extraordinary things, David McNally guides us through seven chapters, each illustrating the attitudes and behaviors needed to navigate this new world of work.
The Eagle's Secret teaches us how to trust ourselves and find the strengths that allow us not only to survive, but thrive.
The Eagle's Secret: Success Strategies for Thriving at Work & in Life
Author Bio
David McNally specializes in the history and political economy of capitalism. The author of seven books and over 60 scholarly articles, Professor McNally taught political economy at York University in Toronto before joining the Department of History at the University of Houston. He holds his Ph.D., M.A., and B.A. from York University. 
His research has addressed issues of race, migration, gender and social reproduction in the development of global capitalism. Professor McNally has won the Paul Sweezy Award for his book, Global Slump: The Economics and Politics of Crisis and Resistance, and the Deutscher Memorial Award for Monsters of the Market: Zombies, Vampires and Global Capitalism. 
Professor McNally's latest book, Blood and Money: War, Slavery, Finance, and Empire (2020) is now being translated into German.
Source: University of Houston 
more