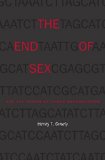 The End of Sex and the Future of Human Reproduction
Interview with Henry T. Greely
March 7, 2017
Sign Up. Full interview.
About Henry T. Greely
Henry T. "Hank" Greely is the Deane F. and Kate Edelman Johnson Professor of Law and Professor, by courtesy, of Genetics at Stanford University. He specializes in ethical, legal, and social issues arising from advances in the biosciences, particularly from genetics, neuroscience, and human stem cell research. He chairs the California Advisory Committee on Human Stem Cell Research and the steering committee of the Stanford University Center for Biomedical Ethics, and directs the Stanford Center for Law and the Biosciences and the Stanford Program in Neuroscience and Society. He serves as a member of the NAS Committee on Science, Technology, and Law; the NIGMS Advisory Council, the Institute of Medicine's Neuroscience Forum, and the NIH Multi-Center Working Group on the BRAIN Initiative. Professor Greely graduated from Stanford in 1974 and from Yale Law School in 1977. He served as a law clerk for Judge John Minor Wisdom on the United States Court of Appeals for the Fifth Circuit and for Justice Potter Stewart of the United States Supreme Court. He began teaching at Stanford in 1985.
Interview Summary
Sexless reproduction, once the talk of science fiction is likely to become a reality in the next three to four decades. With the advances in genetic and bioscience, prospective parents will be able to select from the hundreds or thousands the most favorable embryo and improve the genetic outcome of their children.
In an interview with Readara, Henry T. Greely reviews how far genetic science has advanced and where it is likely to head in the near future. Greely, a scientist and a law expert, offers a lucid overview of stem cell research and lays out a clear possibility that scientists are only one or two steps away from generating sperms or eggs from skin cells.
In the book, Greely attempts to glimpse in the near future and tackles not only the scientific advances but also looks at how they will be adopted, how society will adjust to parental choices and adapt to new definition of family. 
Key Topics
How are the latest developments in stem cell research likely to affect human reproduction?
How is genetic selection different from cloning or from designer babies?
What kind of genetic information of embryos will be available?
Will sexless reproduction be available to anyone and everyone?
How are new technologies likely to improve in vitro fertilization and preimplantation genetic diagnosis?
How will families, communities and lawmakers adjust to the new realities of offspring choices?
What role will science play in deciding the makeup of our children's health, abilities and looks?
Other Books by Author