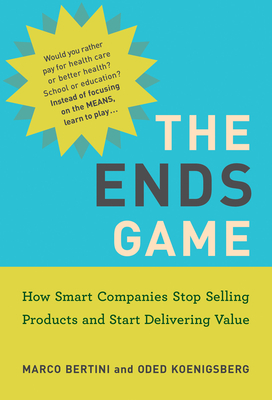 MIT Press
The Ends Game: How Smart Companies Stop Selling Products and Start Delivering Value
0

Rate this book

Key Metrics
MIT Press

Hardcover

9780262044349

9.2 X 6.4 X 0.9 inches

0.9 pounds

Business & Economics > Management Science

English
$0
Available Copies:
0 Copies

Secure Transaction
Book Description
How some firms are rewriting the rules of commerce by pursuing ends--actual outcomes--rather than selling means--their products and services.
Would you rather pay for healthcare or for better health? For school or education? For groceries or nutrition? A car or transportation? A theater performance or entertainment? In The Ends Game, Marco Bertini and Oded Koenigsberg describe how some firms are rewriting the rules of commerce: instead of selling the means (their products and services), they adopt innovative revenue models to pursue ends (actual outcomes). They show that paying by the pill, semester, food item, vehicle, or show does not necessarily reflect the value that customers actually derive from their purchases. Revenue models anchored on the ownership of products, they argue, are patently inferior.
Bertini and Koenigsberg explain that advances in technology have made it possible for firms to collect impact data that tells them when and how customers use their products and how those products perform, and that firms can draw on this data to turn products into seamless services. New revenue models will enable transparency, accountability, and efficiency.
Bertini and Koenigsberg offer real-world examples of how companies in healthcare, transportation, education, and other sectors are already playing the ends game, describing, among other things, the successes of Dollar Shave Club, Rent the Runway, and pay as you fly insurance for drone flights.
Finally, they outline the challenges in adopting these new models, offering guidance on such issues as criteria for defining an outcome, concerns over data collection, and internal organizational obstacles.
The Ends Game: How Smart Companies Stop Selling Products and Start Delivering Value
Author Bio
Marco Bertini is professor of marketing at Esade and a visiting professor in the marketing unit at Harvard Business School. He is also a senior advisor to the marketing, sales, and pricing practice at the Boston Consulting Group. He received his doctorate from Harvard Business School, and previously served on the faculty at London Business School.
Marco is co-author of the book "The Ends Game: How Smart Companies Stop Selling Products and Start Delivering Value" (MIT Press), which explores how modern technology stimulates accountability, challenging organizations to succeed from the quality of the outcomes they deliver rather than the offerings they bring to market.
The remainder of his research, which for the most part lies at the interface of the economics and psychology of pricing decisions, appears in the leading journals for management science and practice, including Harvard Business Review, MIT Sloan Management Review, Journal of Consumer Research, Journal of Marketing, Journal of Marketing Research, and Marketing Science. His research and commentary are often featured in media outlets such as the BBC, Financial Times, Forbes, The New York Times, and The Wall Street Journal.
Marco's speaking and advisory work focuses on the challenge of designing and implementing revenue policies that are not only efficient and drive growth, but also socially responsible. Recently, Marco was named to the Thinkers50 Radar, a shortlist of the scholars "most likely to shape the future of how organizations are managed and led." Prior to this, he was nominated for the Business Professor of the Year Award, a global competition of the Economist Intelligence Unit, and recognised by the Marketing Science Institute as one of the most promising scholars in the field.
Marco is Italian, but grew up in Australia and subsequently lived in Spain, the United States, the United Kingdom, and now back in Spain.
Source: esade.edu
more
Videos